Good Soil is a Plant's Foundation!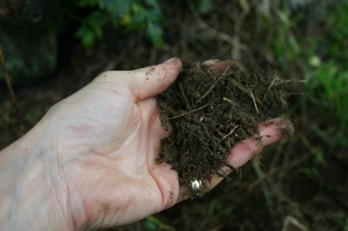 All the components of your landscape plan depend on a strong foundation. The structural elements you know have to have a good footing and are often subject to inspections during construction to make sure they are being built right. The foundation I see most neglected is a good foundation for your plants. Soil preparation is key here. Your plants need as good a start as you can give them, so prepare the soil properly to provide a good growing medium that feeds and nourishes them.


Preparing planting beds does add cost to your project. I believe this is why I see it neglected. It requires the addition of compost and tilling it into the ground, so it gets mixed with the existing soil. Here's a simplified explanation why adding organic matter in the form of compost is so important. Central Virginia has heavy clay soils. Clay particles are flat and pack down on one another creating a dense soil with no room for air and water to move through it. Organic matter is round. These round particles mix with the flat particles creating a loose soil that allows better drainage and air circulation. Think of a good rich farm soil that you can pick up and it rolls through your fingers. Pick up clay and when you press it with your fingers it flattens and sticks together forming a dense blob.

Newly installed landscape plants need to push out new roots in order to get established. Roots are able to grow best in loose soil that drains well. The biggest problem I see with plants that have died is poor drainage. Standing water around a plant's roots causes them to rot. If the soil is not draining properly, drain tile may need to be added to keep the roots healthy. A small coil of slotted pipe under the root ball collects the excess water and it can be carried away in a solid pipe to the discharge location.

Be sure to use organic matter that is composted. The act of decomposition uses nitrogen that is an element in the soil that plants need. If raw organic matter (saw dust or raw manure for example) is applied to the soil it can use up the soil's nitrogen during decomposition and stress your plants. Be sure the material from your compost pile resembles soil when you use it or buy bagged compost to use. It is also available by the truck load for larger jobs.

Good soil is not made in a day. As well as adding organic matter at installation, consider regularly using organic fertilizers. These fertilizers are like a vitamin pill for your plants that can be used any time of year. They slowly release nutrients in the soil that aid your plant's growth and also help to enrich your soil. A popular organic fertilizer applied this time of year is Hollytone In the notes on my landscape plans, I always specify shredded pine mulch. It does not last in the landscape as long as hard wood mulch, but most new jobs need the added organic matter in the soil that quicker decaying pine mulch adds.

Lawn restoration is done now. Visit this site to learn more.

Fall is not the time to prune your shrubs hard. Only do minor shaping now.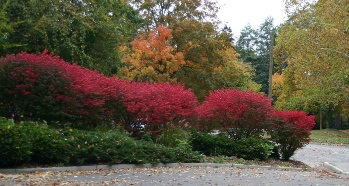 Observe fall foliage colors, so you can select plants you may want to add to your landscape. Plants like Japanese Maple and Burning Bush turn an eye catching red. Sugar maples turn a bright orangey yellow while oaks turn earthy burgundies and golds. Beautiful fall foliage adds wonderful color to your landscape like seen in this photograph of burning bush. Notice the sugar maple's fall colors in the background.


Many bulbs can only be planted in the fall. Don't miss out on having great spring flowers like daffodils, tulips, and hyacinths. Get some today and get them in the ground as soon as you can. Plant bulbs like daffodils in large sweeps at the edge of your lawn. Fill containers with tulips for a beautiful accent on your patio. Small bulbs like crocus and snow drops add a nice accent close to a door or sidewalk where you can see them up close. Having these flowers in the winter is a nice as well.

The cool autumn months are an ideal time to install your landscape. Remember, a landscape plan is essential for developing a beautiful and functional landscape. Take the time to have an extraordinary landscape plan developed for you, so you can enjoy watching your investment grow each year.

Revisit the fall back issues of Landscape Update to get more fall landscaping information. There are two: Autumn 2009 and Autumn 2010.

2011 marks the 30th year in business for Landesign of VA, Inc.! The company is fortunate to have dedicated clients that use us for repeat business and gladly refer us to their friends and family. Thanks so much for your continued support!!!

Please contact me to inquire about landscape design services.


Nancy Dransfield
Landesign of Virginia, Inc.
P.O. Box 15582
Richmond, Virginia 23227
Office: 804-261-6773
E-mail: n.dransfield@verizon.net



Learn About Making Effective Web Sites!