Exciting Evergreens!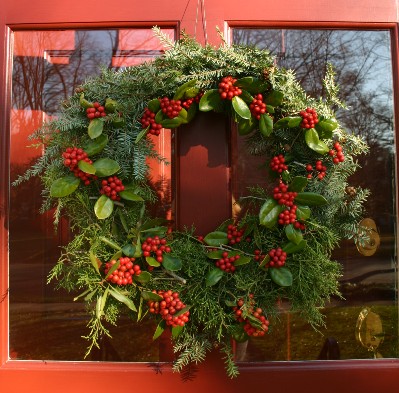 Winter is the time of year where evergreen trees, shrubs, and groundcovers stand out in the landscape. They maintain your home's prominent look, provide year round screening, and add a wide variety of leaf color, texture and flower color during these cold, gray days. The structure, or many folks say the bones, of the landscape is done with evergreens. Plant deciduous shrubs, bulbs or perennials in front of and around them to add another layer of interest to the landscape. We are blessed with hundreds of evergreens that flourish in the Mid-Atlantic. They come in many different sizes and shapes. There are plants that fit your specific need or can accent the architecture of your house perfectly. Gone are the days where homeowners only have plant varieties that can overgrow their house in one season, if not kept pruned. Evergreen shrubs that only grow to 3 feet tall are common and dwarf varieties reaching only 2 feet tall fit under low windows perfectly. Only touch up pruning a few times a year is all that's required of this type of shrubbery to keep it looking neat and healthy. Conifers (plants with needle-like foliage) are becoming increasingly popular in VA. Their use in the landscape has always been strong in the Northeast and Northwest of the US, but the introduction of many new varieties of these plants are making them more desirable throughout our region. The fact that they are deer resistant is a big plus too. The needles come in colors from blue to dark green. Check out the Dwarf Colorado Spruce to see a beautiful, low-growing shrub with a blue cast. Japanese Cryptomeria has replaced the Leyland Cypress as the optimum evergreen tree for screening because of its lack of disease problems. As well as the tall Japanese Cryptomeria, there is a dwarf variety, Cryptomeria japonica nana, that works well in foundation plantings. Some conifers have decorative cones that are desirable as seen on the Deodora Cedar and Hemlock. As well as the typical tree form varieties of the Deodora Cedar and Hemlock, we now have dwarf and weeping forms of these plants. Conifers are wonderful plants for adding a variety of textures, colors and shapes to your landscape.
---
---
Winter flowering evergreens add color and fragrance at a time of year when it's appreciated. Winter Daphne is one of the all time favorites with its beautiful dark green foliage or with a subtle variegation. Viburnum tinus blooms in February. There is also a variegated form of this plant that is striking. Yuletide Fall Flowering Camellia is named for its ability to be blooming over the holidays. Sweetbox, a shade loving, evergreen groundcover with a dense foliage and vanilla scented winter flower makes a wonderful cover under trees and in the front of planting beds.
---
---
In most cases, in screen plantings and beds away from the house, I like to use sweeps of all one type of evergreen, layering sweeps of other plants forward and around them. Recently, in small areas, I have been using a mixture of evergreens that form a tapestry look. The evergreens are planted closely to one another so they grow together tightly. Nandina berries seem to come out of the Aucuba beside it. Fall camellia flowers add color to the arrangement. Rhododendron flowers are fully on display in May, but flowers pop open in the cold months too. It is important to use a combination that looks good together and thrive under the same site conditions. This design technique is especially nice in natural settings. Use your evergreen branches, berries and cones for Christmas decorating. Minor pruning or thinning of the evergreens you use for decorating does not harm your plants. Save heavy pruning of non spring flowering shrubs like holly and boxwood for late winter. The wreath in the picture is made of hemlock, juniper and burford holly. I appreciate your repeat business and many referrals that have kept Landesign making outdoor spaces beautiful places for 31 years. May you all have a Happy and Prosperous New Year!
Please contact me to inquire about landscape design services.


Nancy Dransfield
Landesign of Virginia, Inc.
P.O. Box 15582
Richmond, Virginia 23227
Office: 804-261-6773
E-mail: n.dransfield@verizon.net