Spring Project & Landscaping Hints!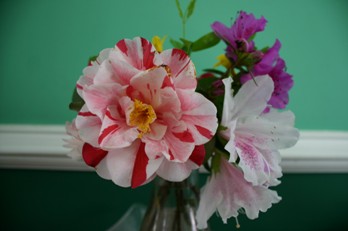 Spring is here in all its glory! Virginia surely shines in the spring with its breathtaking flowering plants, sunny weather and mild temperatures. Who would want to be anywhere else this time of year?
Azaleas are not everyone's favorite and you would not want to dominate your landscape with only azaleas, but a Virginia spring would not be the same without them. The large number of varieties available always amazes me! For something different look for double flowers (Pink Pearl or Gardenia), June flowering varieties (all Satsuki varieties Pink & and Orange Macrantha), bicolors (Conversation Piece & some Satsuki varieties), and the fall flowering Encore azaleas. Their heights range from dwarf (18-24") to large shrubs (5-6').
---
---
The flower arrangement in the photograph contains bicolor camellias & azaleas. My camellias have been blooming since October since my first fall bloomer started giving me flowers. My spring varieties have been blooming all winter and into the spring. I am going to miss these flowers since their blooming season is coming to a close. Camellias can get large, so if yours need a hard pruning or shaping, now is the time to do it. This is true for all of your spring flowering shrubs, prune immediately after they bloom. Spring is the time for taking on all sorts of projects that impact the appearance of your landscape. It is the perfect time for repairing masonry and painting. When repairing masonry, use a mortar color that matches the old color. Using the same color mortar helps make the repair look like it never happened, a true sign of a good job. I am often asked to help select house colors. I can give you some helpful hints about choosing exterior colors that can be fine tuned by an interior designer. They work with paint colors daily and come up with extraordinary combinations that I never would have imagined. When choosing an exterior paint color think about: the overall look you want to achieve and what the architecture might dictate; the color of the brick and mortar and how the trim color blends or accentuates it; for urban dwellers, the color of the houses around yours; the color of the landscaping including the landscaping immediately around the house, as well as the large trees in the background; if no large trees backdrop your house, the blue sky becomes the background and can impact the house color as seen with beach houses. Repeat house colors in house number signs, mail boxes and other outdoor elements for a very finished look. This spring, lawns have never looked better! The bare spots that were in my lawn this winter have miraculously closed to create a lush carpet. Our hot, dry summers are hard on our cool season fescue lawns. Adjust watering times and frequencies as our weather changes. Lawn needs an abundant amount of water (1" per week) to survive. I am also seeing lots of mole activity in lawns. These harmful critters push up the lawn to make room for their tunnels. They are feeding on Japanese Beetle Grubs that can be controlled with insecticides or for a long term organic solution use Milky Spore. Milky Spore takes time to grow in your lawn to establish enough microbes to kill the grubs. You can still apply insecticides while the Milky Spore is getting established. Mole traps do work as well. Poison to put in the tunnels is also available, but beware if you have pets that can eat the poison or eat a poisoned mole, mouse or vole. Spring is the time to apply fertilizer to your shrubs especially the ones you want to see put out a lot of new growth.Organic fertilizer is a good overall vitamin pill for your plants, but often does not give a quick burst of growth. Use a good quality, slow release fertilizer that will last all season. These fertilizers also do not burn shrubbery, so you can't make a mistake and harm your landscape. Some brands I like are Miracle-Gro Granular and Osmocote. I hope you have a great spring enjoying the outdoors! Your referrals and repeat business are appreciated. They have kept Landesign of VA, Inc. in business since 1981!
---
---


Please contact me to inquire about landscape design services.



Nancy Dransfield
Landesign of Virginia, Inc.
P.O. Box 15582
Richmond, Virginia 23227
Office: 804-261-6773
E-mail: n.dransfield@verizon.net




Learn About Making Effective Web Sites!