Summertime Blues-Plants that is!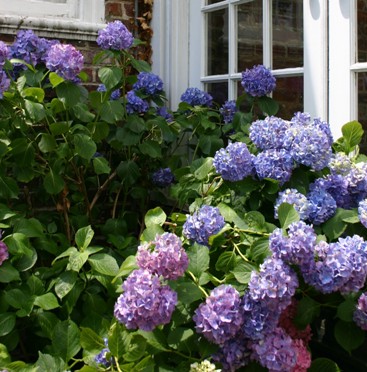 Blue flowers are refreshing and cool, a great plant to have in the garden during our hot summers. They can also brighten up a dark, shady area. They blend beautifully with many other flower and foliage colors making them a very versatile choice. Blue flowers are great for cutting and are wonderful accents in flower arrangements. Blue flowers come in all shapes and sizes and are found on summer flowering shrubs, groundcovers, perennials and annuals. Hydrangea is our best known blue flowering shrub. What you may not know is how many varieties are available. You can get them with the typical ball shaped flower as well as with delicate lacey flowers. Find them with variegated foliage and in dwarf form. Look for the Endless Summer varieties because they bloom for a long time. Plumbago (Ceratostigma plumbaginoides) is a beautiful deciduous, blue flowering groundcover. It is a great plant to interplant with spring flowering bulbs. Plumbago is also available in the less known shrub form (Ceratostigma willmottianum). Use this unique, 3' tall shrub as an accent in your shrub or perennial bed. Blue flowering perennials work well with other plants and add a soft accent to the landscape. Veronica just doesn't stop blooming all summer. My favorites are Goodness Grows and Royal Candles. The Old Fashion Phlox variety, Blue Paradise (Phlox paniculata 'Blue Paradise), is a 24" tall perennial with a cluster of small florets that form a dome shaped flower at the end of the stem. Coastal gardeners can use Campanula carpatica 'Deep Blue Chips' . Their heart shape foliage with its cup shaped flower is tolerant of salt spray while also attracting butterflies. Annual Blue Victoria Salvia has spike-like flowers that are about 18" tall. The creeping, blue annual lobelia adds a carpet of blue to a shady garden. Blue Flowers look beautiful in shady areas planted with with white variegated hosta like Night before Christmas or Patriot. Use the shade loving Fuji Blue Dragon's Head (Dracocephalum argunense 'Fuji Blue' ) that provides a blue carpet of color all summer. Blue Blood Hardy Geranium looks great mixed with its pink cousin, Biokova Karmina Hardy Geranium. Shrubs with blue, evergreen foliage are very attractive especially in the summer when the new foliage is on the plant. Try the conifer, Dwarf Colorado Spruce (Picea pungens'Montgomery'), to add a distinctive blue, pyramidal accent plant to your landscape. The Boulevard Cypress (Chamaecyparis pisifera 'Boulevard') is another conifer that looks nice in the summer.

You can't lose with these beauties. Enjoy your summertime blues!
---
Weed control is a constant chore for southern gardeners. Spraying weeds with Round-UP or its generic equivalent is the best way to kill these invasive culprits. A back pack sprayer makes this chore so much easier. Instead of bending over to pump the sprayer, the handle is at your side where you can pump while you spray, if necessary. The job gets finished so much faster and is actually easier on your back because you minimize bending over. Put only an amount in the sprayer that you can comfortably carry on your back. I clean my sprayer after each use so that I can confidently use it for spraying insecticides or repellants on plants. Be careful you clean thoroughly with soap and water. You don't want to harm plants with herbicide residue.
---
Please contact me to inquire about landscape design services.



Nancy Dransfield
Landesign of Virginia, Inc.
P.O. Box 15582
Richmond, Virginia 23227
Office: 804-261-6773
E-mail: n.dransfield@verizon.net




Learn About Making Effective Web Sites!