Don't Let the Winter Slow You Down!
Are you eager to start a landscape project? Don't let the winter slow you down! There are lots of things you can do to keep the installation of your landscape plan moving forward.

Consider installing or repairing your garden shed. Currently, I am replacing the wooden, clapboard siding as well as the door on my vintage garden shed. I wanted to have a fresh coat of paint on it by the early spring to show off the spring flowering camellias, pieris and bulbs that live around it. By doing the construction in the winter, I can get a coat of paint on it as soon as the outdoor temperatures permit.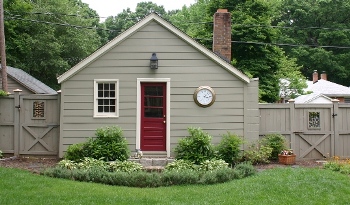 This client's shed is also used as an office. The paint color matches the fence and the nice details on it make it charming. This outbuilding is an asset to the property.




Landscape lighting can be installed any time of year. Take advantage of a slow planting time to add lighting that extends the enjoyment of your landscaping into the night. The wiring for low voltage landscape lighting does not have to be installed in a trench. The 12 volt current is very safe and the wire can be installed as simply as going under a layer of mulch or being put in a slice in the ground. The equipment that transforms your 120 household current to low voltage 12 volt current is plugged into an electrical outlet and the light fixtures are wired to the transformer. Not having to deeply dig into the hard ground makes this installation a good project to do now.

Concrete work or masonry work that involves concrete can't be done in freezing temperatures. Masons do keep working during the winter, however. Usually, they work shorter days, stopping work early enough in the day to allow the concrete or mortar to set before the night temperatures hit freezing. Tents over the construction with heaters are another way of keeping a masonry project going. Be aware of these limitations, if tackling a masonry project in the winter. If wet concrete dries in freezing temperatures, it crumbles and has to be redone.




Boulders look great in the landscape! They especially look nice when they appear like they are naturally occurring. They must be installed in the ground, not just placed on top of it. You don't have to bury a large portion of it, but do get the bottom edges below the ground. If you are installing it on a slope, bury the back of it. Get the boulders in place now, and be ready to plant around them during the late winter (one of the best times of the year to install landscape plants). Putting plants around the boulder further encourages that naturally occurring appearance.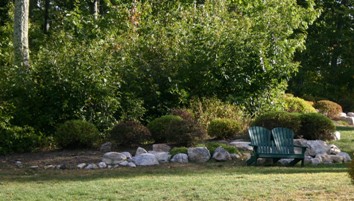 Building dry stack stone walls that require no mortar are a perfect winter project. This type of wall is usually a low (not over 18 inches tall) accent wall that does not require a building permit. A dry, compacted crusher run gravel foundation is usually adequate. These walls look nice free standing or as a retaining wall.

The cold weather does not stop me from working on my outdoor projects. I actually prefer to do some heavy jobs like cutting and clearing brush when it is cold. It does not take long to get warm when I am working hard. I find strenuous work like this is exhausting in the summer heat.

Enjoy the winter working on your landscape plan. Search for that special garden ornament, build a fence or install stepping stones. FYI-If you bought spring flowering bulbs, but were unable to plant them last fall, get them in the ground now ASAP. You'll probably still get spring flowers!

Please contact me to inquire about my landscape design and consulting services.

Nancy Dransfield
Landesign of Virginia, Inc.
P.O. Box 15582
Richmond, Virginia 23227
Office: 804-261-6773
E-mail: n.dransfield@verizon.net