Landscape Lighting Makes Your House Shine!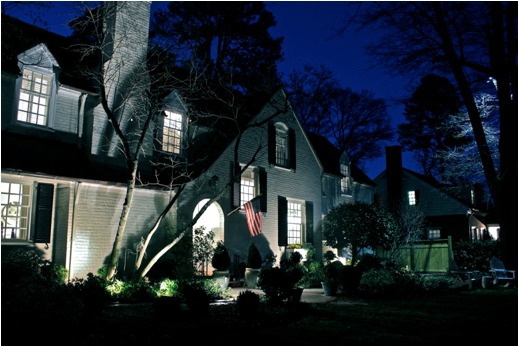 Landscape Lighting adds excitement and style to your home. Proper lighting also allows you to move around at night safely and comfortably brings guests to your front door. Low voltage lighting fixtures come in many types and sizes giving the lighting designer a variety of ways to accent your house and plantings. Improve the night time street appeal of your house by adding impressive lighting that is designed to show off the fine points of your property.
In this lovely photo by Peter Cox of Nebula Media, my client's house is shining. It is a great illustration of effective lighting design done by my colleague, INARAY. The front door and steps are very visible. The door way is nicely lit by a ceiling fixture. When accenting the front of the house, balance is important. You want the light to softly flow along the entire structure without harsh bright light at one spot and a dark spot somewhere else. This is where a good lighting designer that knows fixtures and what they will do becomes a valuable asset. Trees offer an opportunity for accent lighting that can also help light a pathway or driveway. Lights mounted in large trees that cast light downward produce interesting shadows on the ground as well as a moon like haze that helps drivers and walkers see better. Small specimen trees like Japanese maples can have light come up from the base of the trunk filling the canopy to show it off. Up lighting also shows off the trunk which is especially effective in winter. Also, It is dramatic and impressive to look out a back window and see a favorite tree lit or shadows cast from above down onto your lawn. Think about how nice it would be to extend your time spent outside because of the addition of effective lighting.
---
---
Low voltage fixtures use only 12 volts of current compared to 120 volts that are used by household fixtures and post lights. A transformer that is housed in a small box that is easily hidden beside an outdoor, crawl space or garage electrical outlet converts 120 volts to 12 volts. All the fixtures are wired to the transformer. What this means for a homeowner is that it is a very safe current to have on your property, especially in trees. If a wire becomes disconnected from the fixture, it cannot harm anyone. Another advantage is that the bulbs last for thousands of hours and the cost of installing and operating the system is reasonable. An important design detail is to keep the source of the light invisible. You want to see the soft light flowing over a path, not a line of fixtures that disturb the integrity of your well designed landscape. Fixtures can be nestled among shrubbery to hide them. There are decorative path lights that cast the light downward instead of having glass sides that expose the bulb. Fixtures come in a range of qualities. Use at least a mid grade fixture because it lasts longer and operates better than lower grade fixtures. Most likely, this fixture is made of cast aluminum instead of plastic, for example. If there is a reason to show case the fixture, they are available in brass. Usually, I like to use a fixture that is a verde green or bronze color, so that it blends into the landscape and fades away. Keep in mind that soft low voltage light can be washed out by 120 volt security lighting. If you have security lights mounted on the corners of your house, have separate switches for the low voltage lights. This way you can operate them separately. Seasonal Information-Late winter in Virginia brings flowers like camellias and daffodils. These are two of my favorites because they do so well in our climate and live for decades. Both of these plants have been blooming since January. A new daffodil introduction by Brent & Becky's bulbs is Narcissus 'Lord of the Rings'. It is a striking, clear white flower that has a thin yellow line around the trumpet. Plant daffodil varieties that bloom from January to late April, so you have daffodils in your landscape for months. A wonderful spring flowering camellia that can bloom both spring and fall is the Early Autumn variety.
It is a double dark pink that has some petals that curl in the center making it especially unique.
---
---
Late winter is a busy time in the landscape pruning holly and crape myrtle as well as cutting back liriope. In just a few weeks, we'll be cutting grass again and working on our lawns. For weeks the birds have been singing like it's spring. After escaping the Northeast right before the big snow storm, I feel lucky to live in Virginia!

Landesign has been making outdoor spaces beautiful places for 32 years. I appreciate your repeat business and referrals!
Please contact me to inquire about landscape design services.


Nancy Dransfield
Landesign of Virginia, Inc.
P.O. Box 15582
Richmond, Virginia 23227
Office: 804-261-6773
E-mail: n.dransfield@verizon.net