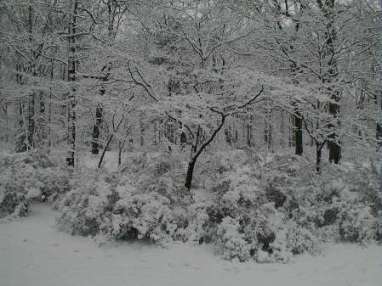 Central Virginia is buried in deep snow for the second time this winter. This hasn't happened in a long time. We are lucky that these two snows have not produced ice, but have been light and fluffy. This small bit of information may be too late to use this year, but keep it in mind when managing your landscape next year. Do not shake the snow off of plants that are weighed down to the ground. I know you are concerned about them breaking, but shaking the cold branches is more likely to break them, especially boxwood. Let them naturally thaw out and spring back to their natural shape. Remove the snow as it is falling, if you do not want the weight on the plants at all.


January always seems like such a long, cold dreary month. There are always some signs of spring in January, however. If you love daffodils, there is a variety called Rjenvelds Early that blooms in late January. It is a short, sturdy yellow daffodil that is beautiful planted among your shrubbery or in a sweep in front of a wooded area. If you see this plant blooming this winter and want to add it to your garden, make a note to yourself to plant it in the fall (the correct time to plant daffodil bulbs).

Another favorite winter flowering plant of mine is the Lenten Rose
. It is a shade-loving evergreen perennial. There are many hybrids that produce a wide range of flowers in colors from pale green to purple.

Just last week, I was amazed to see a white spring flowering camellia in full bloom. A few warm days triggered it to open its already developed flower buds. This beautifully illustrates a lesson in pruning which is a late winter and spring maintenance task. Spring flowering shrubs like camellia, azalea, forsythia and viburnum develop their flower buds during the growing season prior to the time they flower. For example, the camellia I saw blooming this January formed its buds during the spring and summer of 2009. It goes into the winter with its buds fully developed and is just waiting for warm weather to trigger them to open. Spring flowering plants are pruned immediately after they bloom to encourage growth that produces buds for the following spring. Prune too late and you remove the developing buds. Please visit my site's pruning page for detailed information about pruning all types of plants. My favorite hand pruning shears are the Swiss made Felco 2.
I find them the most comfortable to use and very sturdy. They hold up to the large amount of pruning I do and I like that they have replaceable blades.

February is short and some plants begin to break dormancy or even flower. Look for February Gold Daffodils, crocus, snow drops, quince and daphne in bloom. If you enjoy planting a spring vegetable garden, late February into early March is the time to plant cool season crops
like spinach and lettuce. I like to have a large decorative container of baby lettuce outside my kitchen door. Prune berry producing landscape plants and summer flowering plants in February. Trim back liriope before the new growth starts in early March. Fall planted pansies seem to have survived the snow falls. If some of your plant's top growth looks damaged, don't despair. Trim it off and it will produce new foliage and buds in time for a spring display of flowers. They are so resilient.

The snow certainly brightens up Virginia's bland winter. It accentuates the branches of deciduous trees and makes red berries pop out. The slow melting snow refreshes our underground water supplies. It is a quiet time for landscaping, but an important one. I look for the small signs of spring in the winter because Virginia's spring is so incredibly beautiful and anticipated all year.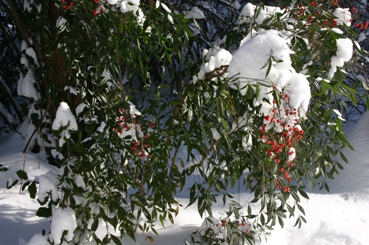 The nandina is a very familiar plant in our area. It is the prettiest in the winter when its evergreen foliage and red berries contrast with the snow.

Please contact me to inquire about my landscape design and consulting services.

Nancy Dransfield
Landesign of Virginia, Inc.
P.O. Box 15582
Richmond, Virginia 23227
Office: 804-261-6773
E-mail: n.dransfield@verizon.net