Outdoors for the Holidays?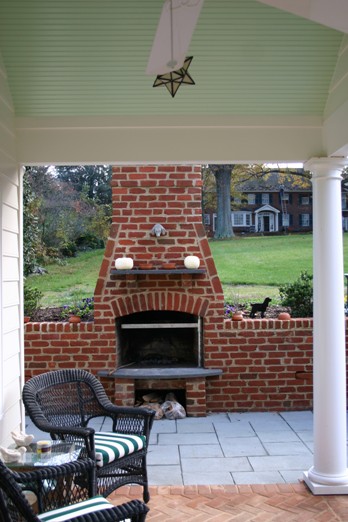 Gathering around a warm fire is a holiday tradition. An outdoor fire at this time of year brings families together too.Time spent outside during the holidays can create wonderful memories of cuddling by the fire singing carols, cooking special holiday favorites and gathering greens for decorating. An outdoor fireplace is a definite way to get family and friends to enjoy your beautiful landscaping during the holidays.An outdoor fireplace can transform an outdoor space into a room-like environment. Comfortable furniture with exterior upholstery available in many styles, colors and designs are widely available. Coffee tables, side tables, lights and heaters are also made for the outdoors. An exceptional outdoor room has been created where holiday guests can spend time during your celebrations. A fire pit is a cozy place to gather around.Often they are part of a patio, but can stand alone. A seating wall is often built around one side of a fire pit with furniture on the opposite side. I have had clients want fire pits that can accommodate large fires, so they are located away from the house. Portable versions are also popular because they can be used anywhere on your property. Smoke is always going to be present around a wood fire. The draft of an outdoor chimney can't overpower the power of the wind. Gas fire units that produce no smoke are available for fire places and fire pits. Smoke screens are available for fireplaces.
---
---
Cooking over an open fire is made easy with grill components and soup pot holders. A pivoting iron arm can be incorporated into the side of the fire box. Attach an iron soup pot and easily get it on and off the fire by swinging the arm over the fire or off. A masonry type grill can be added beside the fire place hearth and heated by wood or gas for easy cooking. Cook your favorite holiday foods outdoors and enjoy the time spent together in the crisp, fresh air. Gathering greens for holiday decorating has always been a favorite of mine. I have had many clients request that their landscaping have evergreens that can be cut for holiday use. Arrangements, swags or wreaths can be made from many of the plants growing in your landscape. The tiny cones on the droopy branches of the Canadian hemlock, the red berries and shiny leaves of holly, the tall stalks topped with clusters of red berries on nandina, the sweet smell of bayberry and juniper all can come together to add the beauty and fragrance of fresh greenery to your house during the holidays.
Happy Holidays!!
I appreciate your repeat business and many referrals that have kept Landesign making outdoor spaces beautiful places for 33 years.
Please contact me to inquire about landscape design services.


Nancy Dransfield
Landesign of Virginia, Inc.
P.O. Box 15582
Richmond, Virginia 23227
Office: 804-261-6773
E-mail: n.dransfield@verizon.net