Outdoor Kitchen - Recipe for Success

An outdoor kitchen is a wonderful way to expand your home's living space. Being able to prepare food and have friends and family gather in a comfortable place outside is a valuable addition to any home. There are endless combinations of equipment and building materials available for you to build an attractive and functional addition.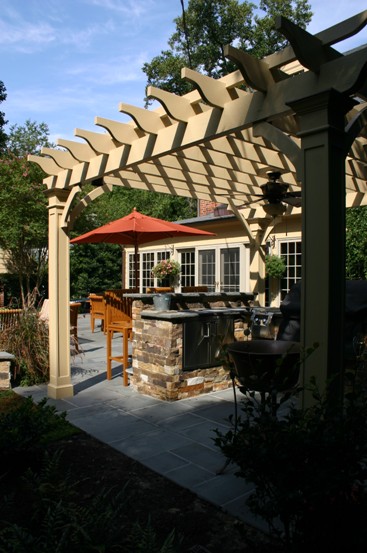 This outdoor cabinet base is built out of strong and beautiful natural stone. It compliments the brick house and the painted arbor's color matches the house's trim color. You would never know it is an addition to their renovated back yard!
The question I most often hear is "where do I start?" As with any other landscape project, the plan is of utmost importance. The final plan gives the contractors working drawings for pricing the project and details of construction. It also gives you, the client, a professional approach to figuring out the most attractive way of incorporating an outdoor kitchen into your landscape. The landscape designer helps you work through the best size, location and building materials to meet your goals and budget. It does not stand alone. The area around it must blend and compliment it to make it look its best! How the new addition looks with the house is important too. Repeat materials used in the house or use materials that look appropriate with it.
You need to be able to tell a designer what you want out of this project. Think about the equipment you would like to have to make the project complete. Many of the appliances you have inside have outside versions. Grills come in many different sizes and configurations. Storage is necessary and outdoor cabinet doors are available. Use sturdy building materials that can withstand the outdoors for the cabinet and appliance base, as well as the counter top. What are your electrical needs? Does a gas line need to be installed? Do you want a shaded area, fan or stereo speakers? Discuss specifics of your property like drainage issues and the best access to the area during construction. The list is endless, so take time to write down important information about the site and the components you would like to have in your outdoor kitchen. Your landscape designer can then work out the perfect design within your guidelines.
When buying the appliances, work with a supplier that has a superior reputation for standing behind the warranty and working well with the installing contractor. In some cases, the supplier may also be the installer. They must be well versed in custom work and making installations work in different situations. Be sure all the contractors are reputable, licensed, and insured and all the structural parts are built to your vicinity's building codes. Also, the installer must file the  necessary building permits. 
Appliances, grills and all the other elements need to fit into the allowed space.  When I work with a client, I first work on the preliminary design.  This plan is to scale, but is not the final working drawing.  It is a work in progress.  It shows the outdoor kitchen and how it fits on the property with suggested plantings and other elements.  The selection of the appliances and other components is very personal.   I ask clients to take the preliminary drawing and start working on selecting the appliances they want.   After these selections are made, I can make sure they fit into the allotted space, revise the design to fit their selections and advise them on their selections.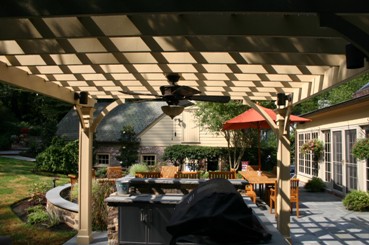 This wonderful outdoor kitchen is equiped with a grill that allows you to cook with gas or wood. The stainless steel cabinetry is beautiful and low maintenance . The natural stone cabinet base and granite counter tops will last forever. The outdoor kitchen is only one component of this back yard renovation. The patio was enlarged to accomodate the new kitchen, a dining area for at least 8 people and a firepit with a seating wall. Wouldn't you love to be invited to a dinner party here?
     Whether you are building a new home or adding to an existing one, remember that the outdoor kitchen needs to be in proportion to the surrounding space and home to create a beautiful landscape.  This is important whether you are working with a small or large space.  An outdoor kitchen that is too large can overwhelm a smaller home.  If it's too small, it may not give you what you need for the cost of building it.  The ultimate goal is to have your dream outdoor kitchen become reality as smoothly as possible and be more than what you ever could have imagined! 
Exploring the possibilities of an outdoor kitchen and want some valuable advice?  Submit your question to Ask the Expert.  I will respond to your question quickly and get you on your way to building the outdoor kitchen of your dreams!

Please contact me to learn about my landscape design and consulting services:

Nancy Dransfield
Landesign of Virginia, Inc.
P.O. Box 15582
Richmond, VA 23227
Office: 804-261-6773
Fax: 804-264-7253
E-mail:n.dransfield@verizon.net
Return to the Home Page
Go to Next Page
Go to Related Page: Patios, Back Yards, Outdoor Fireplaces, and Pergolas

Installing the landscape design is just the beginning! Your investment should grow bigger and stronger each year. Subscribe to the quarterly newsletter, Landscape Update! Get seasonal recommendations for the best care of your plantings. Landscape Update will highlight products that are used in the landscape. Landscape projects may be discussed to help illustrate a product or landscaping ideas. Situations I encounter that will help you with your landscaping, I'll pass on to you. Using pictures to illustrate a point is a favorite of mine. You will find a wealth of information to help you better take care of your landscape, help you add an exciting new element to it or learn about what's new!
Stay Informed!!! Subscribe today!
Turn your knowledge into a website that generates income for you.
SBI (Solo Build It) is a powerful website creation and hosting system that shows you how it is done step by step. Take a look!