A Landscape Design is a Plan for Success!
The first step in creating a beautiful outdoor environment is to develop the plan - THE LANDSCAPE DESIGN. Whether your project is large or small, simple or complex, a plan keeps you on track and saves you money. Landscaping is an investment in your property that grows more valuable each year. Create it right the first time!
I want to share my 34 years of experience with you. My work has been primarily in the residential sector, but I have done plenty of commercial projects. There are many aspects of developing the grounds for a property that are only learned by doing. I want you to be able to gain this extra depth of knowledge from this web site.
Explore these pages to learn the process of developing beautiful gardens for your property. This information is valuable to the do-it-yourselfer or the person who is preparing to hire a professional.
Time spent planning and designing your landscaping pays off! The best plants for your property and climate are used. Thought is given to the needs of the site and the best look to suit the architecture of your home. Personal preferences and budget are taken into consideration.
Creative landscaping creates wonderful spaces for many uses and adds beauty and value to your property! The landscape design is the starting point to making it happen. Sit back and enjoy this web site of beautiful pictures and valuable information.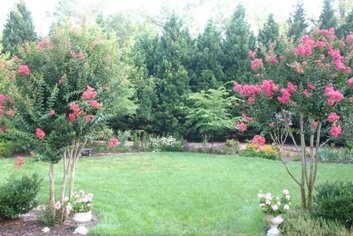 For further information or to inquire about my design services contact:
Nancy Dransfield, Landesign of Virginia, Inc., P.O. Box 15582, Richmond, Virginia 23227, Office: 804-261-6773, Fax: 804-264-7253, E-mail: n.dransfield@verizon.net.
Before & After Landscape Design Pictures
Landscape Design Samples from Start to Finish Illustrated with Pictures!
Cottage Gardens made Simple!
Woodland Gardens have unique site conditions that offer wonderful opportunities for a shade garden!
Pretty Patios are Powerful Places!
Design your Driveway to Make an Impression!
Choose the Best Driveway Surface for Your Property!
Bordering a driveway with a structural edge adds a beautiful landscape design detail, but is also functional. See what a driveway edge can do for your project and learn about the different types!
A Circular Driveway Makes a Beautiful Approach!
U-Shaped Driveways Are a Tried and True Design That is Very Popular!
Parking areas at your home should not look like the parking lot at the mall. Make room for cars without ruining your landscape while adding interest and pizzazz.
Design Tips For a Spectacular Swimming Pool!
There are Good Reasons to Consider a Fiberglass Swimming Pool!
Gunite Pools can be Any Shape or Color!
Vinyl Liner Swimming Pools are Soft to the Touch and to Your Pocketbook!
Perfect Pool Decks are Stylish and Comfortable!
Fences are often a required part of your landscaping, but they do not have to be boring or unattractive. Integrate them into your landscape plan properly for marvelous results!
Garden walls are permanent structures with limitless possibilities. See and learn how these garden walls have made their owners spectacular outdoor rooms!
Build retaining walls to terrace a hill or provide support to a steep slope. Design them to impress your visitors and endure the elements!
Outdoor fireplaces create a warm, cozy gathering place and an exciting focal point!
Do Outdoor kitchen design and construction right! The process is full of details that you can learn here.
Design and Build Waterfalls that Work!
Harmony Park is an outdoor musical play ground full of incredible percussion instruments.
Front Yards that make a lasting first impression!
Back yards are a place for fun and relaxation! Personalize your back yard and make it unique. This is your private space to ponder and enjoy!
A small yard is charming, but challenging. A different approach is necessary to successfully design one.
Steps are functional, but also are a design element. Learn the tread/riser formula for designing steps that are safe and beautiful!
Pergolas provide shade and are beautiful structures that add a wonderful architectural detail to your landscape!
Green Landscape Design is energy and resouce conscious. Conservation is considered when developing a green landscape plan.
Your beautiful house stands alone with all the hardscape installed. It is not finished until you do the planting design. Come learn the essentials!
Improve the night time street appeal of your house by adding impressive landscape lighting that is designed to show off the fine points of your home and grounds.
How to Understand the Basic Types of Landscape Plants.
Perennial Landscape Design Ideas and Plants for Zone 7.
Landscape Maintenance does not have to be overwhelming. Organize it with the help of your landscape plan for and organized approach and wonderful results.
Do not let pruning intimidate you!. Learn the plant basics for accessing your pruning needs. Get all the information you need to know to do a great job.
Learn about Nancy Dransfield's years of experience in landscape design!!
The <em>Landscape Design Expert Blog</em> keeps you up-to-date with all the additions and changes to the <em>Landscape-Design-Expert.com Web Site</em>. <strong>Subscribe Here!</strong>
A Directory of Favorite Links For Landscape Design and Gardening Enthusiasts.
Contact Me, Nancy Dransfield, Landscape Architect and owner of Landesign of Virginia, Inc.
Ask the Expert about your Landscape Design Problem or Concern. I Want to Help!
Get Published Free! Send pictures to show off your great landscaping! You get your own web page to share with friends, family and the world.
We want you to feel comfortable using this site. The privacy policy let's you know how we collect and use personal information you submit on this site.
Marketing my Landscape Architecture firm on the web with Site Build It has been the best form of advertising for my company.
Summer weather demands heat tolerant plants. A swimming pool/pergola keeps you cool. Try the hot new product, Deck Over, to renew your salt treated wood and concrete.