Beautiful Back Yards!
Back yards are for you! You don't have to impress the person passing by. They are designed to fulfill your family's needs in a style you prefer.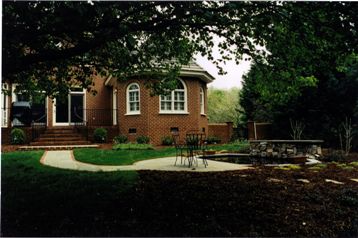 The addition of the turret and brick terrace inspired the renovation of the landscaping. Centered on the turret is a reflecting pond that is edged on one side by a Pennsylvania bluestone patio and the other side has a stone seating wall. The bluestone paving has a brick edge that ties it in with the brick house, yet the stone extends a more natural feel out into the landscape. The brick wall at the back corner of the house adds privacy and a nice detail to view from the street as well. Stepping stones carry you through the plantings to the stone seating wall and to the expansive lawn past the trees and below the pond. - The grass enhances the view of the house and creates open space. Having a freshly cut green lawn is always beautiful. When creating a lawn, sod is an option. Make sure it's within your budget.
What a great place to view from the study or sit to have refreshments! The small cafe table and chairs fit perfectly on this patio.The outdoor furniture adds a visual accent as well as provides a comfortable place to relax.

Traditionally, back yards are the place you will spend your outdoor time, entertain guests, garden, stroll and play. I have designed them to look like a park with open lawns, large trees and flowers.



Small back yards that are creatively designed so that a family can have lots of entertainment area are also popular.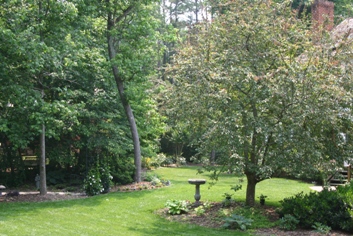 Back Yard Considerations:
Size may be a limiting factor. Careful planning in the beginning can help you decide what elements best work in your space. You may have to prioritize or choose what things are of utmost importance.
Privacy is nice to have for this personal space. Instant privacy comes in the form of fences and walls. Plantings can be added for additional height or to hide the ugly backside of the fence. If you desire a softer look and can wait until plantings fill in, just do plantings. Lucky you if you have enough property that privacy isn't an issue.
Some folks want a patio where you can have a nice dinner. Other families want a poolbasketball court, or large deck. They all can be part of a wonderful landscape that will bring you hours of fun. Think about what approach you want to take.
The cost of the back yard can add up quickly. Be realistic about the amount of money youinvest. You want the dollars you spend to make you money when it's time to sell.
Pets need space too. Is your pet going to respect your landscaping or does he need a private space of his own. Dog runs can provide a secure place for your pet to spend short periods of time or give you a break when needed. I have incorporated them into a landscape design where you don't even know it's there. Attractive fencing can make it seem like a part of the landscape too.

Plantings can be more varied in the back yard. Although it's possible to have the back yard look groomed all the time, there is not as much pressure here as with the front yard. This is the place to plant a flower garden and have all the wonderful plants that you want.
Outbuildings like garden sheds and detached garages can be charming plus add storage for tools and equipment. Install plants around them, so they become a part of the overall landscape. Keep the utility doors out of view. Point them away from the house. A window with a window box full of color is much nicer to view.





Off street parking can be a valuable asset to many urban homes. For houses on a city street without a driveway, parking off an alley in the back is convenient. Screen the cars with plants or decorative fencing, so cars don't intrude on your back yard.



This urban courtyard connects the main house and the detached garage. The garage is designed to look like a carriage house that is in keeping with the old neighborhood. You don't want to look at cars in such a nice garden. Lawn isn't necessary to create a lush landscape. Plantings fill the planters to soften and add color to the fence, house and carriage house.



Back Yard Blues! Ask me how to green it up and make it your favorite place. Submit your question at Ask the Expert! You'll get a quick response and a web page dedicated to the subject, so other readers can benefit too. I look forward to hearing from you!


A lawn where children can easily play behind the house is beside the swimming pool nestled on the terrace below. When the shrubbery grows in, you won't even know the pool is there. The roof of the pergola will be the only hint there is something in this secret garden.


Wouldn't you like to spend your day here? The pool is surrounded by comfortable places to lounge and relax. The sitting area by the fireplace or the outdoor kitchen by the house lend themselves to fun activities with your friends. A screened porch and pergola covered deck along the back of the house give more cozy places to be in the outdoors. Notice the back side of the wooden fence is screened with plantings.

Contact me for further information or to talk about my design services.

Nancy Dransfield
Landesign of Virginia, Inc.
P.O. Box 15582
Richmond, Virginia. 23227
Office-(804)261-6773
Fax-(804)264-7253
E-mail- n.dransfield@verizon.net

Go to these related pages for more information on back yards: Garden Walls; Patios; Cottage Gardens; Landscape Pictures; Landscape Design Samples; Fences and Swimming Pools.

Go to Home Page from Back Yards
Go to Next Page

Turn your knowledge into a website that generates income for you. SBI (Solo Build It) is a powerful website creation and hosting system that shows you how it is done step by step. Take a look!