Vinyl Liner Swimming Pools are Soft on Your Pocketbook and Feet !
The most attractive aspect of an in ground vinyl liner swimming pool is its affordability. It's less than half of the cost of a concrete in ground pool.



There are some advantages other than cost to this type of pool. Many of my clients like the feel of the soft bottom on their feet. It is built faster because there are not as many steps involved in the construction. No tile around the top to keep clean helps with the maintenance. A tile pattern around the top gives the look of tile, however.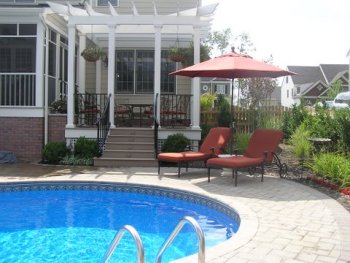 This pool looks as pretty as a concrete pool! Notice the tile pattern around the top edge. The pool deck is concrete pavers. A small track for holding the liner fits neatly under the bull nose coping.

Gone are the days when this pool was considered inferior. In the past, the pool deck did not meet the edge of the pool nicely and the trim around the top was plastic. They were typically seen with simple, gray, broom-finished concrete. Today, the deck is built the same as any other type pool with it going right up to a nice coping (trim paver around the edge of the pool), not plastic trim. You can use any type of surface for the deck.



The liner comes in a wide range of colors and patterns. This helps accommodate most any landscape design. As far as maintenance is concerned, it is replaced on average every 10 years and is a third of the cost of refinishing a concrete pool.

I'm sure there are pool contractors that can do custom shapes, but I've always used their stock sizes and shapes.

Improved strength, pattern designs and construction engineering have made this swimming pool a popular choice for your landscape design!


---
Questions about pools? Put my 30 years of experience to use helping you! Ask me a question about any landscape design issue or concern. You will receive a quick response and a page dedicated to the topic on this site. You can share it with your friends and family and the readers will appreciate it too. I hope to be hearing from you!
---
Please contact me for further information or to talk to me about my design services.

Nancy Dransfield
Landesign of Virginia, Inc
P.O. Box 15582
Richmond, Virginia 23227
Office: 804-264-7253
Fax: 804-264-7253
E-mail: n.dransfield@verizon.net






Go to Next Page
Return to Swimming Pools
Return to Home Page from Vinyl Liners
Related Pages: Gunite Swimming Pools; Fiberglass Swimming Pools; Pool Decks; Fences and Back Yards.