Planting Design Essentials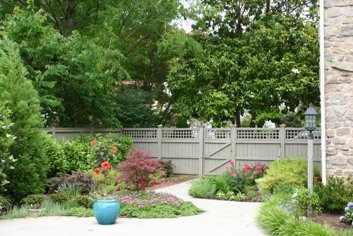 A beautifull planting design is captivating, welcoming and interesting. It makes a space come alive with color and texture. Doesn't this photograph look like a place where you would like to spend endless amounts of time? A landscape does not exist without plants. Your home grounds can be a place of relaxation and contain an abundance of flowers for you to enjoy while outdoors or to use for arrangements indoors.
Your beautiful house with all the hardscape installed stands alone.
It just is not finished until you do the installation of the landscape plants.
The plants soften the edges of the structures and add life, color and interest to your home. They integrate your house to its surroundings and give it scale. Special needs are met with landscape plants' abilities to screen undesirable views, provide shade or be a striking focal point.




Here are a few Planting Design guidelines that I take into consideration when developing a landscape plan.


The front of the house is always on display. The landscaping is going to make or break the street appeal of the house. I do not like to fight the architecture of the front of the house, but work with it and accent it. When possible, I like to frame the view of the house with trees. I do not like to see trees planted in front of the front door. It disrupts the overall view of the house. Use evergreen plants that look good most of the year to keep the maintenance low.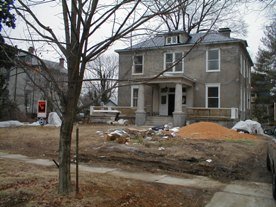 The front of this house does not look striking at all while it is under construction and without any landscape plants. It is in desperate need of a planting design that gives it the prominence that it deserves.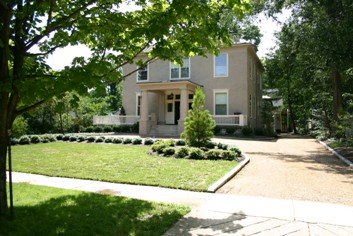 This house is now a striking addtion to a fine neighborhood. The plants frame the front door and accent the architecture.



If desired, the property in the back of the house can be personalized and can take on a style all its own. In this situation, the landscape plant's purpose is to accent the landscape elements like the pool or patio. Your eye is not always focused on the house in the back yard, but often is looking out and away from the house. The planting design can be more relaxed, but still needs to be cohesive and planned well.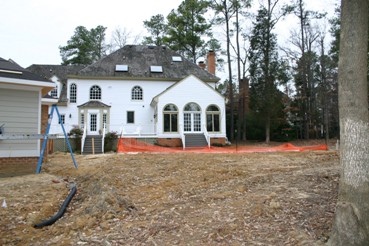 This beautiful house with a new pool is in dire need of help to integrate these structural elements into the landscape and make them function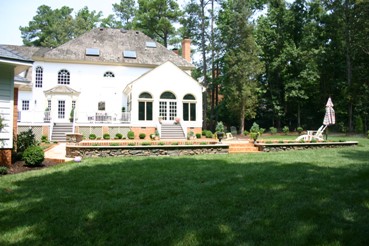 This pool and house now come alive. The lawn provides an inviting way to wander around the property while adding a lush green color. The shrubbery softens the surfaces and provides interest.
Try to use plants that you like and would like to see in your landscape. Also, be flexible and aware enough to know that other plants might fit the need or environment better. Every plant in the design should have a purpose even if it is a simple one. It should be that well planned. My first draft of a planting plan is to determine what size and type of plant I need to use to best do the job. The second step is to actually select plant varieties.
The entire area developed on the landscape plan needs to be considered as one canvas. I like to compare doing a landscape plan to painting a picture. It's easy to get caught up in one tiny area and not see the whole picture. Stand back and take in the whole view and see how the palette of plants brings out the beauty of your house and grounds by accenting the architecture correctly and adding a wide range of colors and textures.



Whoever did this planting design could not imagine anything in this space except a small tree and a line of shrubs to edge the bed. The new owners of the house wanted something exciting to view from the porch and an intriging garden that beckoned to people to come down off the porch and enjoy it.

This small space is now full of excitement! The planting design shows off the house while also providing a wonderful view and place to relax. Another dimension of planting design is to plant your pond with water plants like water lillies and iris. This planting plan creates a beautiful picture and functions well too.



Structure in the landscape is created by having a good skeleton of strong, evergreen plants. Do not depend on seasonal color or deciduous plants to do this job. I love to use a large variety of plants in my planting designs. When adding seasonal color, plant it in front of an evergreen. This design technique enhances the added color by adding a backdrop and the evergreen plant looks nice in the landscape all year.


The house looks lost and unattached from its surroundings without a nice planting design to show it off.

The evergreen planting design gives a strong structure to the front of this house. The pine trees look like part of the landscaping instead of the house looking like it has intruded on the pines. The large sweeping bed around the trees that is full of plants is much more impressive than a collection of small beds. The dogwood trees add spring color to frame the front door and the groundcover (Vinca minor) in front of the shrubs produces a sweet blue flower in the spring. This planting design looks good year round and also provides color.




Think about the amount of maintenance you can realistically do. A simple landscape that is well maintained looks nicer than an elaborate one that constantly needs work. If planting annuals for seasonal color each year is too much work, consider using an evergreen groundcover or a mass of long blooming perennials in its place. Do not plant an overabundance of shrubs that need regular pruning. Keep your shrub plantings to the basic amount needed to do the job and use varieties that do not grow larger than the space allotted.


A creative planting design can do wonderful things for your property. Clients are always amazed at how an imaginatively designed professional landscape transforms their property into a much more usable and exciting place.

Planting Design can be challenging. Please Ask the Expert planting design questions. I hope to be hearing from you!

Turn your knowledge into a website that generates income for you. SBI (Site Build It) is a powerful website creation and hosting system that shows you how it is done step by step. Take a look!




Please contact me to inquire about my landscape design services.


Installing the landscape design is just the beginning! Your investment should grow bigger and stronger each year. Subscribe to the quarterly newsletter, Landscape Update! Get seasonal recommendations for the best care of your plantings. Landscape Update will highlight products that are used in the landscape. Landscape projects may be discussed to help illustrate a product or landscaping ideas. Situations I encounter that will help you with your landscaping, I'll pass on to you. Using pictures to illustrate a point is a favorite of mine. You will find a wealth of information to help you better take care of your landscape, help you add an exciting new element to it or learn about what's new!

Stay Informed!!! Subscribe today!





Return to Home Page from Planting Design
Go to Next Page
Related Pages: Landscape Plants and Perennials