Fiberglass Pools are Low-Maintenance!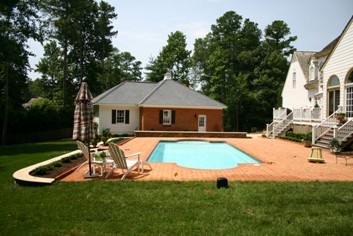 Fiberglass Swimming Pools are durable, molded one-piece units.
You have stock sizes and designs from which to choose. They are made off site which is different than the vinyl liner and gunite pools that are built on site.
They are delivered on a flat bed truck and installed in a matter of days. Clients that want to limit the amount of construction time for their landscape design consider this type of pool.
Here are some other things to consider:
Once installed, it doesn't have to be relined or resurfaced. Cost-wise they are comparable to a gunite pool of the same size, but not having to resurface it in 8-10 years is a big savings.
The surface is smooth and comfortable. It also comes in various colors. Tile patterns of fish or other nautical designs can be put in the surface to make your pool unique.
Tile is installed along the top edge of the pool giving it a pretty band of color and a nice finished edge.
There are models with benches molded into them that also work as the point of entry and exit (no aluminum ladders needed).
There are standard widths that go up to 16 feet. This is because it must fit on a flat bed truck. This is the only limiting design factor I've encountered.




BEFORE – This fiberglass swimming pool was installed before I was hired to develop the landscape plan for the back yard. Extensive grading and drainage work was done before the construction of the pool deck, walls, planters and steps to facilitate an easy transition between the levels and to assure proper water flow.






AFTER – This pool is elegant and dazzles every visitor! The pool deck with a herringbone bond is distinctive. The bull nose brick coping is another beautiful detail. The capped composite stone seating wall creates a nice place to sit and keeps people safe from falling to the sidewalk level below.



This type of pool is something to seriously consider for your back yard project. They are strong, long-lasting and low-maintenance!

Thinking about a pool, but don't know where to start? I'd like to answer your questions! Ask a question, get a quick response and see your question and answer become a web page on this site. The information will be helpful to all the readers and you can share it with your friends!

Please contact me for futher information or to talk to me about my design services.

Nancy Dransfield
Landesign of Virginia, Inc.
P.O. Box 15582
Richmond, Virginia 23227
Office: 804-261-6773
Fax: 804-264-7253
E-mail: n.dransfield@verizon.net



Related pages: Swimming Pools, Gunite Pools, Vinyl Liner Pools, Fences Pool Decks

Return to Home Page from Fiberglass Pools

Go to Next Page