Hot, Hot, Hot!!!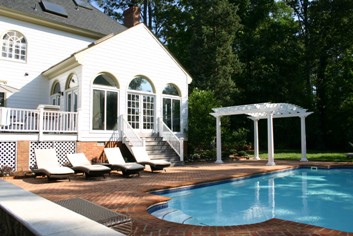 Summer is here and the heat is on!!Isn't this swimming pool a nice place to cool off? The refreshing water and shade provided by the pergola create a back yard ready for hot summer days. If you'd like to be swimming in your back yard next summer, start planning now. A landscape plan is essential when adding a swimming pool. Not only are the aesthetics and functionality of the project important to give you a professionally designed look, but proper drainage, building materials, and meeting local building codes must be addressed.
---
---
A very hot new product is helping put a new face on salt treated wood decking, fencing and railing. Deck Over by Behr (available at Home Depot) is a thick paint that fills in cracks, covers splinters and provides a durable coat of acrylic resin fused with ceramic microspheres. It also works on concrete. I did a set of salt treated steps up to my garage apartment and was amazed how well it worked. It is going to keep me from having to replace the deck boards and gave it a new look! It comes in a wide variety of colors and is reasonably priced.
Fescue lawns are beautiful in the cool weather, but suffer when it's hot. This is because they are cool season grasses. A number of my clients are using zoysia grass that can't get enough of our summer heat. It grows like a thick mat and is the best lawn in the summer. The down side to this lawn is that it goes dormant in the cool weather turning brown. A way to keep this lawn green all year is to over seed it with annual rye in the fall. The rye grass will grow well in the fall, winter and spring then die out when the Zoysia is coming to life in May. Zoysia also is sun tolerant, not burning out in hot spots. This makes it good for those hot western and southern exposures.
Plants that don't scorch in the heat are important to keeping your garden colorful in the summer. Sedums of all varieties thrive and bloom in the summer. Try the groundcover Voodoo for a burgundy leaf and bright pink flower. The taller growing, Neon has a bright pink flower that lights up the landscape. Our tried and true heat loving natives like Black- eyed Susan and Purple Coneflower have hybrid varieties that are more compact and bloom longer than the native species. Try Little Gold Star Black-eyed Susan and Butterfly Kisses Purple Coneflower


---
---
The Sangria Ornamental Pepper is an annual that has bright, red hot, miniature peppers all over it. The peppers start out a bright purple color ripening to a blazing hot red. The peppers add color and life to your garden until frost. So many plants struggle in the heat, that it's good to know there are some plants that thrive in Virginia's hot, summer weather. Summer is also a good time to start the planning and design phase of a future project. If it's a planting project, planning now will have you ready to begin planting when the temperatures cool down in the fall. During the hot months of summer, doing maintenance to keep your property at its best is also a good idea. May you have lots of fun this summer and I hope it doesn't get too hot, hot, hot! I appreciate your repeat business and many referrals that have kept Landesign of VA, Inc. making outdoor spaces beautiful places since 1981!

Have this newsletter sent directly to you! Your e-mail address is used for no other purpose. Fill in the form below.


New pages are being added to this site regularly. Have them e-mailed directly to you! Click on the orange RSS button above under the table of contents and follow the directions. Your information is never used to send you information other than this site blog.


Please contact me for further information or to talk to me about my design services.

Nancy Dransfield
Landesign of Virginia, Inc.
P.O. Box 15582
Richmond, Virginia 23227
Office: 804-261-6773

E-mail: n.dransfield@verizon.net


---

---