A Driveway Edge Holds it Together!
A driveway edge adds a beautiful landscape design detail, but is also functional. It can make a bold statement or be subtle and fade away only doing its job of keeping the driveway material in bounds and grass and mulch out. It always stabilizes the edge of your driveway, no matter what type of surface you have, giving it a crisp and neat appearance as well as added strength. Drainage patterns on, across, and behind your driveway are important to control. A driveway edge can help you direct water where you want it to go being a valuable tool in the overall driveway design.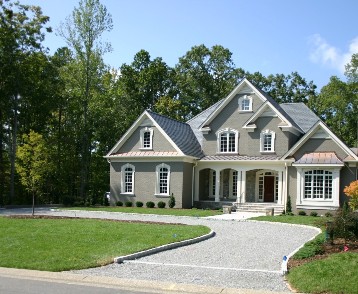 A driveway edge sits up above the driveway surface a minimum of four inches. When it starts getting taller than this height, I consider it a low wall. Needless to say, this edge can be vulnerable to damage from cars and trucks, they are going to roll over it at some point, so it must be a strong material that can take this abuse and keep on looking good. The back side of the edge is backfilled with soil to bring the finished grade to the top of the edge. This adds some support to the edge and also makes maintenance around it easier. Having this area the same grade as the surrounding area lets you bring a lawn mower up to the back side of the driveway edge, eliminating weed eating. It is a much more attractive edge when you do not see the back side as well. Notice the cobblestone edge that is installed at grade and runs across the driveway where the raised cobblestone edge ends. This driveway is on a slight slope. This edge is easy for cars to roll over and helps keep the gravel from slipping down the hill. It was installed on both sides for design continuity.


Stone makes a strong, durable, and beautiful driveway edge. Granite is the stone that is most often used in Central Virginia. The blocks that are cut today are 4"x5"x9", jumbo ones measure 11 inches long. They are a consistent uniform size and shape which makes them easier to lay than old, reclaimed cobblestones obtained at a salvage yard. Usually, these are not a uniform size and gray in color. These would work well on a landscape renovation in an older neighborhood, however. My local stone yard carries newly cut cobblestones that are black, buff, gray, pink and tan, so you do have color choices.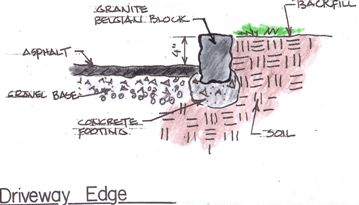 This type of driveway edge is installed in a concrete footing to secure it properly. The mortar joint between the stones does not have to be present. Actually, I prefer a butt joint (no mortar, the stones just tightly butt up against one another). If you do use a mortar joint, be sure to use a mortar that matches the stone.The finished product for any newly installed edge, but especially cobblestone, needs to create a smooth line that your eye easily follows around the driveway. An irregular line that bumps up and down is the sure sign of an inexperienced mason and destroys the look of the approach to your house.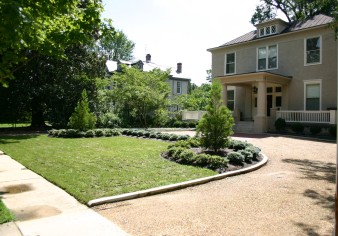 Concrete is used in three different forms as a driveway edge. There are concrete units that resemble cobblestones and are installed in the same manner. Concrete pavers also have edging stones that match the pavers in color and texture giving a concrete paver driveway an added detail that is impressive. There is also an extruded concrete curb that is installed onto a prepared base that has been graded and compacted. A machine extrudes a concrete curb onto the compacted crusher run gravel. I have used this driveway edge in old neighborhoods where it was used on other old houses making the newly renovated property fit in with the old ones. The concrete does need some time to fully cure, so you must be careful around it until this curing period is over. What a shame it is when a newly installed curb gets damaged. Luckily, it is not difficult to repair. The damaged piece of the curb is removed and a new one installed. I recommend visiting some jobs of an extruded concrete edge contractor before hiring them. You do not want this curb to wiggle back and forth. You need a contractor with a steady hand and equipment experience.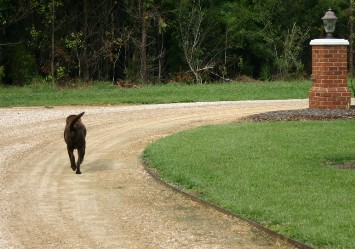 A narrow band of steel makes a clean, crisp, strong driveway edge. It visually fades away, but keeps gravel in its place. It is used extensively in Colonial Williamsburg in Williamsburg, Virginia and has held up beautifully for many years. I find it works with any style landscape because it is so understated. There are manufacturers that produce this driveway edge. Steel or aluminum edging is also used along walkways, patios and planting beds. Be sure to use one that is rated for a driveway, so it is strong enough to withstand a car or truck hitting it. Luckily, I use a contractor that has developed a system for making and building the steel driveway edge on site. I had trouble finding contractors that had the tools to install the prefabricated edge. You can imagine how hard it is to bend to make it go around curves. Making it on site has eliminated this problem.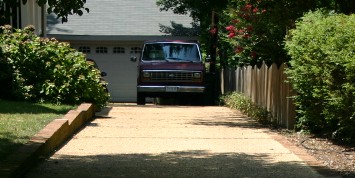 Brick is a building material that is used extensively in Virginia. Naturally, it makes sense to use it as a driveway edge to give the driveway continuity with the house. It is not as strong as granite, so most often is seen bordering sections of an aggregate concrete driveway. This border is at grade to give a visual interest to the driveway and to act as the expansion joint. Brick is much prettier than salt-treated lumber which is another material used to fill the expansion joint. When brick is used to create a raised edge, it most often is done in the form of a low wall so it is strong enough You can imagine half of a brick above grade is susceptible to breaking if a vehicle hits it. A simple brick edge is alright for bordering patios and walks or other landscape components that do not have heavy, vehicular traffic around them. This photo is of a driveway in my neighborhood. It is not one of my projects.

I am not a fan of landscape timbers, 6"x6" lumber, or railroad ties as a driveway edge. They are just too bold and stiff for my taste. Most all driveways have to curve at some point and this material does not flow around them. It seems like this edge gets knocked by the cars too making them out of line with each other. I did have a project many years ago that we used a double row of 1"x 8" salted treated lumber. It is secured by staking it with an 18 inch long stake every 2-3 feet. This thin lumber can be scored on the back and bent to go around curves. The double row gave it the added strength it needed. The scored side of the lumber faced each other on the inside, so both visible sides were smooth and unmarked. I saw this driveway 20 years after it was installed, and it still looked great.
When installing a solid driveway surface like asphalt or concrete, be sure to install the driveway edge first. This eliminates any gap between the edge and the driveway surface that can hold water. Freezing and thawing of water in crevices can damage your driveway.

A driveway edge can be just what you need to hold gravel in place, keep a heavy flow of water from damaging your driveway, or add that special interest that makes your driveway complete. Whatever the reason, a driveway edge is one of those details that makes your house get noticed.


---
Driveway issues? Want someone to help you with this problem? Ask the Expert! I would love to help. I hope to be hearing from you.
---
Contact me to learn about my landscape design and consulting services.
Nancy Dransfield
Landesign of Virginia, Inc.
P.O. Box 15582
Richmond, Virginia 23227
804-261-6773
n.dransfield@verizon.net

---
Installing the landscape design is just the beginning! Your investment should grow bigger and stronger each year. Subscribe to the quarterly newsletter, Landscape Update! Get seasonal recommendations for the best care of your plantings. Landscape Update will highlight products that are used in the landscape. Landscape projects may be discussed to help illustrate a product or landscaping ideas. Situations I encounter that will help you with your landscaping, I'll pass on to you. Using pictures to illustrate a point is a favorite of mine. You will find a wealth of information to help you better take care of your landscape, help you add an exciting new element to it or learn about what's new!
Stay Informed!!! Subscribe today!
Turn your knowledge into a website that generates income for you. SBI (Site Build It) is a powerful website creation and hosting system that shows you how it is done step by step. Take a look!





Go to Home Page from Driveway Edges
Go to Next Page
Go to Related Pages: Driveways, Driveway Surfaces, Circular Driveways, and U-Shaped Driveways