Woodland Gardens are Undercover!
In the woods is a wonderful place to live or spend time! Woodland gardens are under the tree canopy, soothing and offer a completely different experience than being in an open, uncovered and sunny landscape.


The tree canopy shelters plants and people from the hot sun and creates a lovely summer retreat. Plants that only grow in this rich soil and under these sunlight conditions are now available to you. Enjoy woodland paths or sitting in the shade on a patio. A stream or pond in the woods is a natural. Rock outcroppings on slopes can look like they've been there for years in this setting.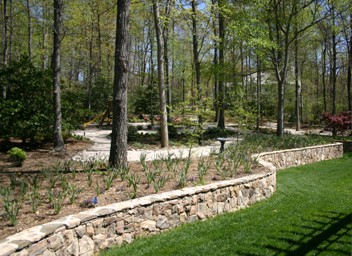 A stone retaining wall separates the house from this magical woodland. These folks have it all! A narrow lawn gives a small open space directly behind the house that makes circulation around the back of the house easy, as well as open play space for the children. The granite dust paths were created so the children could enjoy exploring the woods on foot or on their bikes. The plants add color and texture to this understory area all year.

The landscaped woods creates a beautiful setting for this house and makes this otherwise unused area very functional.


Woodland Gardens attract animals. Deer are beautiful to watch, but can be destructive to landscape plants. No plant is deer proof, but there are some deer resistant plants to use. Birds of all types love the tree canopy. You can accent your woodland garden with bird baths, feeders and houses. Moles, voles and chipmunk are commonly seen in this environment. Voles travel underground and eat plant roots. Look for plants vanishing into holes or plants being easy to pull out of the ground because there are no roots attached. You want to get rid of voles before they destroy too many plants. There are a variety of chemical and organic control methods.

Deer Resistant Shrubs & Trees for a Woodland Garden (Zone 7)
Junipers (all varieties)
American Holly
Foster Holly
Loropetalum (all varieties)
Viburnum tinus
Nandina (dwarf and standard)
Cryptomeria (all varieties)
Dogwood (all varieties)
Redbud
White Fringe Tree
Conifers like dwarf spruce and pine
Boxwood
Bayberry
Visit this
site
for a long list of all types of deer resistant plant suggestions and gardening practices to help you control this problem. This gardening site,
http://www.flowers-plants-gardening-advice.com,
built by landscape professionals has tips and advice for your landscape from someone who has been in the landscaping business for over 30 years like myself.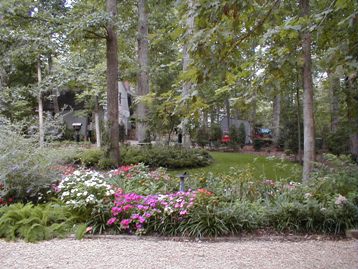 There are many shade-loving plants to use in this situation. Color can be added with annuals and perennials. The annual impatiens in front of the sun dial adds a blast of bright color that will last all season. The perennials provide color at various times throughout the season. This woodland garden contains ferns, sedum, daylily, butterfly bush, phlox and black-eye susan.



Shade-loving Shrubs and Trees (Zone 7)
Azaleas (all varieties)
Rhododendrons
Pieris
Aucuba
Viburnum
Beautybush
Camellia
Quince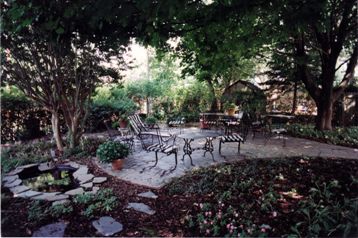 This patio under the trees is like no other.
The small pond adds a soft gurgling water sound. Light fixtures mounted in the trees throw light down onto the patio, so that it can be an intriguing place to be at night. This lighting technique is also called "moonlighting" because it throws shadows of the branches onto the surface below. The Buckingham slate patio surface looks very natural in this setting. The dark surface stays cool under the trees.
---
Questions about your shady garden? I have answers! Use my 30 years of experience in landscape design to help you solve your problem. Ask me a question and you will get a quick response and a page dedicated to the topic on this site. You can share it with your friends and family and the readers will appreciate it too. I hope to be hearing from you!
---
Please contact me for further information or to talk to me about my design services.

Nancy Dransfield
Landesign of Virginia, Inc
P.O. Box 15582
Richmond, Virginia 23227
Office: 804-261-6773
Fax: 804-264-7253
E-mail: n.dransfield@verizon.net






Return to Home Page from Woodland Gardens
Go to Next Page
Related Pages: Retaining Walls, Perennials, Patios Landscape Design Pictures. and Landscape Design Samples.