Retaining Walls Embrace the Land with Style!
Retaining walls hold soil, therefore the wall's surface is visible only on the front side. They are not free standing like a garden wall. Often they are used when sections of a hill need to be leveled to create usable terraces. Strengthening the bottom or toe of a hill is a good use for this type of construction. It secures the hill from sliding onto anything located below it, as well as provides a nice, clean edge to the slope.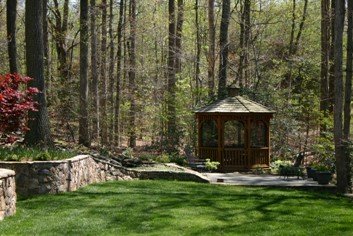 Retaining walls can be any height depending on the demands of the job. As the height increases, so does the width of the footing and amount of necessary reinforcement in the wall.



Also, there is the issue of safety when building a tall structure. Amazingly, building code does not always require a railing along the top of a structure that is detached from the house. Do not disguise a drop off a retaining wall with a narrow planting of shrubbery. This hides a hazard instead of letting it be known, so it can be avoided. A large, wide planting bed that definitely keeps pedestrian traffic away from the edge of the wall can work.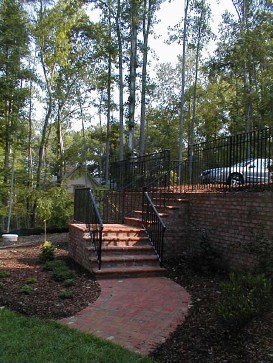 Brick is a beautiful building material. This retaining wall is attached to the brick house at the back corner, so that the driveway could be raised for access to the garage. The black powder coated aluminum rail makes the parking area and drive completely safe for pedestrians and drivers.

Structural soundness is of major importance even for a short structure. The weight of the soil and the water it holds is tremendous. Steel reinforcement and the proper size and type of footing are what keep this type of construction standing for years. Installing a drainage system behind the wall provides a place for trapped water to escape relieving the water pressure. I often times specify a drainage system at the top behind the cap to catch surface water, as well as at the footing to catch sub-surface water.



For years, retaining walls were built from concrete blocks with a brick, stone or stucco veneer. There are now concrete modular block walls for this purpose. Many different manufacturers produce this product. Some are rated to be built taller than others, so look for the product that is recommended for the specifications of your project. This type of building material is more cost effective than a comparative masonry wall. You can see long expanses of this type of wall on commercial projects. I think some block styles look more man-made than others. For residential use, I like to use the blocks that resemble natural stone.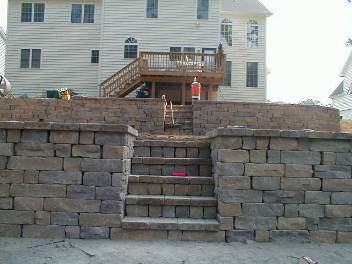 This concrete block modular material is a good substitute for stone at a fraction of the price. This project had two retaining walls to create two terraces for this owner.


Planters are structures that contain soil and water weight and need to be built with sufficient reinforcement and drainage systems. The drainage system is especially important because of watering the plants. An irrigation system may be putting significant amounts of water in the planter on a regular basis that needs to be able to escape. Poor drainage quickly kills plants and excess water pressure can destroy the planter!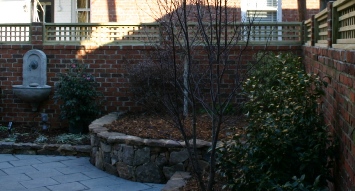 A stone planter is a gorgeous addition to this garden! It naturally blends with the brick wall. The various levels the planters create add interest and detail to the landscape.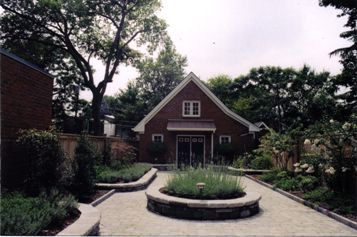 Concrete modular components make beautiful planters! This product is another good stone imitator and adds a lot of style to this courtyard.



---
Do you have a slope that is hard to landscape? Ask me about slopes and retaining walls or any other landscape design issue or concern. I will respond quickly and dedicate a page on this site to the topic. You can share it with your friends and the readers will appreciate it too. I hope to be hearing from you!
---
Please contact me for further information or to talk to me about my design services.

Nancy Dransfield
Landesign of Virginia, Inc.
P.O. Box 15582
Richmond, Virginia 23227
Office: 804-261-6773
Fax: 804-264-7253
E-mail: n.dransfield@verizon.net





Go to Next Page
Go to Home Page from Retaining Walls
Related Pages: Back Yards and Small Yards