U-Shaped Driveways are Unique and Utilitarian!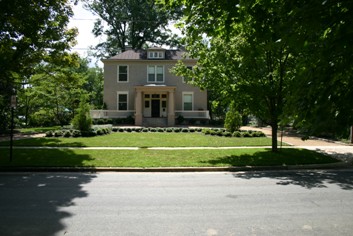 U-shaped Driveways are a tried and true design that is very popular! It carries the driver or walker across your property from side to side. It has two outlets to the main street compared to a circle drive that only has one. To make a long, sweeping, impressive driveway, begin it close to one side property line and have it end close to the opposite side property line. This layout creates a large interior space for planting and frames the house well.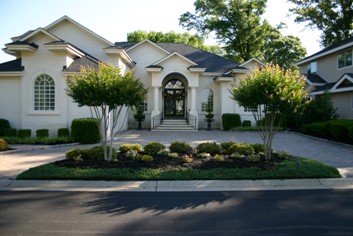 U-shaped Driveways can fit in small spaces! Unlike a circle drive that needs room to make a complete turn before exiting your property, this type of driveway does not make tight turns. This property is only 75 feet wide. The driveway actually makes the property look larger. An easy entrance and exit is achieved here. There is also a garage that unobtrusively faces to the side that also has ample room to operate successfully!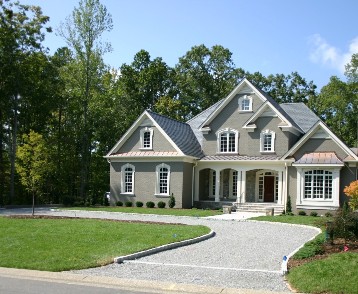 This driveway has to widen to allow cars to pass one another. This is done by the front door. The minimum width for this passing area is 18 feet. Twenty feet gives even more navigable space, if the property allows. Most driveways need to accommodate an entrance to a garage as well as the front door. This design also fits this need. A turning radius of 15 feet is all that is needed to turn off the driveway onto the road that takes you to the garage.



Notice that the driveway does not overwhelm the property, but is in good proportion to the green space. This keeps the appearance of the house soft, attractive and integrated with its surroundings. The cobblestone apron and edging is a finishing touch that keeps the gravel contained and blends well with the gray house.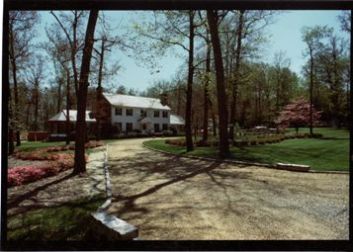 Corner parcels offer even more possibilities for U-shape driveway variations. If you need to have the driveway connect to the side as well as the front, the U can open up wider to accommodate this design requirement. This road now takes your visitor through more of your property and gives even more green space to the front of your house.


---
Driveway Dilemma? I can help! Use my 30 years of experience in landscape design to help you out. Ask me a question about any landscape design issue or concern. You will get a quick response and a page dedicated to the topic on this site. You can share it with your friends and the readers will appreciate it too. I hope to be hearing from you!
---
Please contact me for further information or to talk to me about my design services.

Nancy Dransfield
Landesign of Vriginia, Inc.
P.O. Box 15582
Richmond, Virginia 23227
Office: 804-261-6773
Fax: 804-264-7253
E-mail: n.dransfield@verizon.net





Go to Next Page
Learn more about driveways at Driveways, Driveway Surfaces, and Circular Driveways
Return to Home Page from