Get to Know Nancy Dransfield, an Experienced Landscape Architect!
Photo Credit: Howldog Photography

Once I decided on the profession of Landscape Architecture and Design, I couldn't get enough of it! My college years started when I was 17 years old studying sociology. After two years, I knew it was not the career path for me. At this point, I did not know what I wanted, so I took some time off from school. The jobs I did were varied, but none thrilled me. Landscape Architecture caught my interest after doing some research. It was a natural fit for me. My love for the outdoors and the creative outlet it provided was perfect!




I finished my college education at Virginia Tech receiving a Bachelor of Science degree 'cum laude' in Landscape Horticulture. My work experience while at Tech was invaluable. A wonderful Landscape Architect who was a Community Improvement Specialist for the extension service took me under his wing. JC Garrett advised me on the best courses to take to develop the program I was seeking. JC Garrett gave Community Improvement Programs in many localities across the state. I assisted him when I could get away from school and always helped with the preparations. His travels brought him exposure to various projects. He would get me involved, negotiate a fee and supervise my work so I could get college credit! It was a great experience to do actual projects. It whet my appetite for more!

Since I graduated in December, 1978, I have been continuously working in Landscape Architecture. I have a large network of landscape design, engineering and contracting professionals that I can pull together to do any size project. Residential work is what I primarily do, but I have some dedicated architects, builders and property owners that use me for their commercial projects. In 1981, I moved to Richmond, VA from the Tidewater area of Virginia and started Landesign of VA, Inc. One thing that is important about me is that I take pride in giving my clients my full attention and a finished project that they can enjoy for many, many years.

Landesign of Virginia, Inc. is cerified in the state of Virginia as a small, woman owned (SWAM) business. We are available to work on design teams for state and federal projects.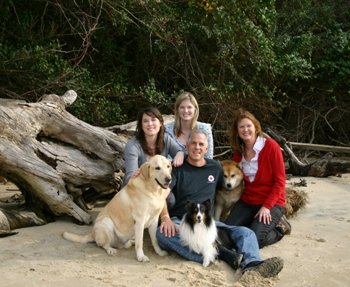 Here's some personal information about me. Don, my husband of 29 years, me (Nancy Dransfield), our daughters and our pack of rescue dogs! We're on a beach by the York River at my Mother's house in Gloucester County, VA. This was an inspiring place for a landscape design professional to grow up. I spent a lot of time as a child observing nature which is the best way to learn how to make landscapes have natural transitions that keep them from looking man-made. As an adult, I still spend time here observing nature as well as experimenting with different plant combinations for the Chesapeake Bay region.




My work ranges from spending an hour or two consulting with someone about a problem area or a maintenance issue to planning an estate. Every job is custom designed to the individual client's wants, needs, budget and property.



Nancy Dransfield is the web site photgrapher. The photographs are of my completed projects unless otherwised noted.The Landscape Plants page has photos that are of individual plants that are not always on one of my projects.
Some published works about Nancy Dransfield or my projects can be seen in Southern Living Magazine, House Beautiful,Mid-Atlantic Magazine, Richmond Magazine, and Home Style(a monthly supplement of a local weekly magazine). Home Style carried my landscape design column for a few years in the early 90's. Talks to garden clubs, civic organizations and other groups interested in landscape design are an interest of mine. People love the question and answer period at the end of the talk and slide show.
This site is giving me the opportunity to give people the knowledge and tips I've obtained by loving and doing landscape design work for the last 30 years! I hope you enjoy it!

Turn your knowledge into a website that generates income for you. SBI (Site Build It) is a powerful website creation and hosting system that shows you how it is done step by step. Take a look!



Please contact me for further information or to talk about my design services.
Nancy Dransfield
Landesign of Virginia, Inc.
P.O. Box 15582
Richmond, VA 23227
Office - (804)261-6773
Fax-(804)264-7253
E-mail- n.dransfield@verizon.net



---
Landscape Design Question? I'd like to help! Go to Ask the Expert to submit your question! It will be posted, so it can help other readers. You'll have your own web page dedicated to the subject!
---