Fences Can Create Attractive Boundaries!
Fences can be an attractive border for your property and a backdrop for plantings. They can take on the character of your house and be a natural extension of it. The small details that are added can make a big difference in its impact to your property.



In today's market, there is such a large assortment of building materials. Salt-treated lumber is no longer one of just a few options although it is a cost effective one. There are many composite lumbers, powder coated aluminum, and vinyl components that can be used which just opens the imagination to all sorts of possibilities. A coat of stain can transform typical salt-treated lumber into something special and unique to your property.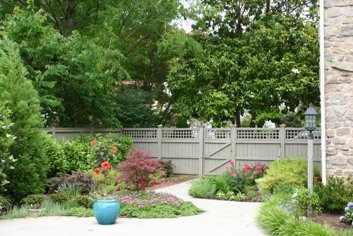 This salt treated lumber fence is stained to make it blend better with the gray stone house and to give it a more finished look. Notice the side that faces the front of the house is more decorative. The more elaborate structure helps improve the street appeal as well as creates an attractive entrance to the back garden. Along the side property line is a more simple design which translates into less money. This helps keep the overall cost of the project down because this simpler design is used to enclose the entire back yard.


Fences can be a requirement for your back yard swimming pool. In Virginia, they must be 4 feet tall and conform to a number of safety requirements. I have worked for clients that have relocated to Virginia and have commented that the requirement is a 6 foot tall structure in their previous home town. Your state or locality has specific parameters that must be followed for a back yard with a swimming pool. Learning this information during the design process eliminates surprises during the construction phase. Work with a design professional or contact your county or city planning and zoning department to find out specific information about your property. You may have to contact the Department of Building Permits too. Of course, some people build taller fences for privacy or add tall growing evergreens behind a lower one to create a dense screen for their entertainment area. I have also worked in circumstances where the neighbor's fence has met the pool requirement necessary for my client's pool. I have also seen situations where someone assumed the neighbor's fence met code and did not. Unfortunately, they had the unexpected expense of adding one which can be costly.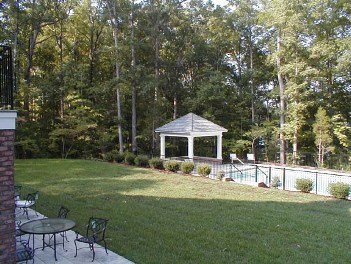 A black powder coated aluminum fence is a very elegant choice. Its simple design and color makes it compliment most everything in the landscape. This swimming pool is built at a lower elevation than the house. After the plants grow in, the pool will not be so obvious in the landscape. The view from this pool looks through the woods to a beautiful lake. The open design and non reflective surface of the black powder coated aluminum is the best choice for this property.

Powder coated aluminum resembles wrought iron which is an open design. The beauty of aluminum is that it does not rust. The powder coated finish is baked on and does not require painting. I have not seen aluminum be as ornate as wrought iron, but it certainly is lower maintenance and has a beauty all its own. Ornate wrought iron is impressive, but takes a lot of time to paint. Today, I see this material used, but minimally. For example, the property of a small, urban brownstone in an historic district looks perfect bordered by decorative, antique, wrought iron fencing.



All fences create an impenetrable barrier, but it is not always solid like a wall. Wood fences can have varying spacing for the vertical members. They can be as close as an eighth to a quarter inch apart which is basically a solid structure. Two to four inches between vertical members makes a much more open appearance. The spacing between the vertical members is a personal preference except in the case of swimming pool requirements where detailed specifications must be followed.


This low, white picket fence perfectly delineates the colonial herb garden with a colonial architectural detail. The house is low to the ground (notice the height of the windows from the ground), so I did not want to overpower the space. The short structure also allows visitors to see the beautiful plantings of herbs, flowers and bulbs on the other side.


This split rail fence is rustic and appropriate in some settings. It is used here to mark the boundaries of this daffodil field at Brent and Becky's Bulbs in Ware Neck, VA. It keeps pedestrians from wandering where they should not while keeping the view open to the beautiful daffodils. It is used extensively in Colonial Williamsburg for enclosing pastures.

Tips and Techniques:
Posts need to be installed in the ground to an 18 inch depth. This depth allows good stability.
I always recommend installing the post in a concrete footing. This keeps it from moving which can make your fence bend and warp. In the case of horse fencing, the horses push against it and can easily move it, if it is not secured with a concrete footing.
Be sure you know the location of your property lines. Ultimately, you do not want to install a permanent structure on your neighbor's property. You also do not want to give your neighbor some of your property. For a boundary line, install it as close to the property line as is comfortable for you.
The size of the post greatly influences its look. A larger post gives a bolder look.
Use decorative caps on posts that extend above it for an attractive detail.
For salt treated lumber, I like to use kiln dried material. This is the top grade material and by being dried before construction, it has less chance of cracking and warping. It can also accept stain sooner than standard lumber.
When using a composite lumber, use a contractor that completely knows the material. There are now many brands of composite lumber for you to choose from. Each one of them has different properties to learn. Most contractors I know, use only one product and learn it well. Such things as how it is handled and stored can even effect how the contractor has to install it.
Be familiar with any height requirements for your locality. In Richmond, VA, we can not exceed a 6'6" height without a variance from the city.
Use fasteners that are made to be used outdoors. Only fasten composite lumber according to the manufacturer's recommendations.


Create beautiful, private borders for your property with an attractive fence.


---
Fences have you frustrated? Where do I put it? What type do I use? Ask the Expert! I would love to help.
---
Please contact me to learn about my landscape design and consulting services:

Nancy Dransfield
Landesign of Virginia, Inc.
P.O. Box 15582
Richmond, VA 23227
Office: 804-261-6773
Fax: 804-264-7253
E-mail: n.dransfield@verizon.net

Return Home from Fences
Go to Next Page
Related Pages: Swimming Pools, Garden Walls, and Back Yards

Turn your knowledge into a website that generates income for you.
SBI (Site Build It) is a powerful website creation and hosting system that shows you how it is done step by step. Take a look!



---
Installing the landscape design is just the beginning! Your investment should grow bigger and stronger each year. Subscribe to the quarterly newsletter, Landscape Update! Get seasonal recommendations for the best care of your plantings. Landscape Update will highlight products that are used in the landscape. Landscape projects may be discussed to help illustrate a product or landscaping ideas. Situations I encounter that will help you with your landscaping, I'll pass on to you. Using pictures to illustrate a point is a favorite of mine. You will find a wealth of information to help you better take care of your landscape, help you add an exciting new element to it or learn about what's new!
Stay Informed!!! Subscribe today!
---