Driveway Design Ideas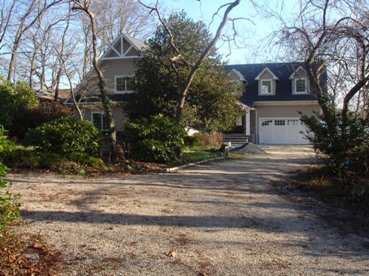 Hello, I just came across your website and thought you may be able to help. I have been racking my brain trying to come up with a good looking driveway layout for a house I am renovating. It was a plain old "L" shaped ranch that I completely redid and now am coming up short on an aesthetically pleasing driveway layout to go along with my remodeling changes. I am leaning towards a circular driveway but, I am open to other suggestions if it works out better. I have included a property survey as well as a picture showing the garage and front entrance. Any ideas would be much appreciated.

Thank You,

Joe Rini

Good Morning!

I am sorry it took me so long to get back to you. Last week was hectic being my first week back to work after the holidays. Thanks for your patience.
Your house looks lovely, what I can see of it. In the picture you sent, the architectural feature that is highlighted is the garage door. I think you need to work at bringing emphasis to the front door and having the driveway function well for you as well as increase the street appeal of the house. Some people want screening from the road, but this should be done close to the front property line not so close to the house. A circle drive is a very functional driveway and I think as you do that it is a good option here. It would open up the front view of the house, provide ample parking and bring the visitors eye to the front door. Planting can be done out from the circle to help soften the appearance of the garage doors and accent the appropriate points on the house. I know it is hard to remove mature plants, but evaluate what plantings now work with the renovated house and new driveway design.

Hopes this helps,

Nancy

Check out the Circular Driveway page by hitting the appropriate tab along the left side of this page.

Join in and write your own page! It's easy to do. How? Simply click here to return to Landscape Design Questions.