How do we design a driveway and landscaping to balance new garage doors?
by Dottie
(Carlisle, PA)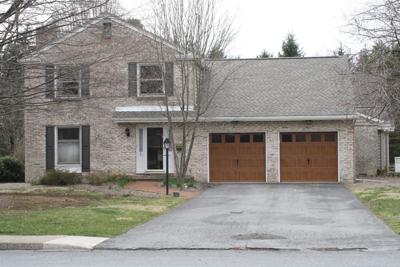 direct front view (house faces east)
We are in need of a curb appeal genie. Right now the house looks like it was made by committee because of different colors and textures everywhere with nothing pulling them together: brick & siding, shutters, trim, walkway, and garage doors.

We want to replace the driveway, walkway, front stoop, and add landscaping. We chose these garage doors b/c we like the look and the color. Now they seem way too heavy in color, but we need to work with them.

We have 2 beautiful front yard trees: a crab apple and huge beech. The beech tree doesn't allow grass to grow between it and the house. I've attached a photo when the tree was in bloom, before we took out the scrubby landscaping and before we replaced the rotting garage doors.

We welcome ideas on using color, materials, plants, design, etc. Thanks!

The design of the house emphasizes the garage doors and I do agree that a straight driveway to the garage doors only emphasizes them more. It appears that you have enough room for a U-shaped driveway with a short leg giving access to the garage. If you can put the mail box or a house number sign at the entrance not in front of the garage doors, it will indicate to a visitor to enter here. This approach does not give such an open view to the garage doors. The angle of the driveway will also not be focused on the garage, but more on the front door. Build a walkway to the driveway in by the front door. You walk on the driveway to go to the garage. Accent the front door with matching evergreen shrubs on each side. Use evergreen groundcover under the windows since they are so low to the ground. The location of the crabapple tree looks fine. The beech tree may be too close to the house. I can't tell for certain from the photo. Hope this information helps. Hit the tab for U-shaped driveways for further information. Thanks, Nancy
Join in and write your own page! It's easy to do. How? Simply click here to return to Landscape Design Questions.