I need help with remodeled older home with large front porch.
by Meredith
(Nashville, NC)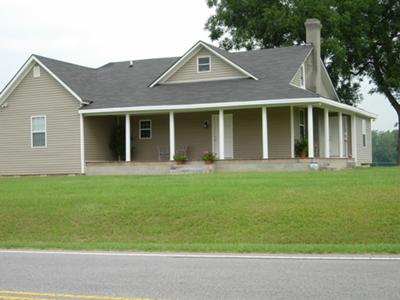 Landscaping a Large Front Porch
My mom's house in central NC faces southeast. I'm having trouble with what to do around the front and right side. The porch is so large and short....about 2.5 ft. tall. I was thinking just a straight row of soft touch hollies. Not sure what to do around window on the left. Help!

Dear Meredith,

I have downloaded a sketch of the landscaping I am describing below for your house on my Get Published Page. Scroll down to the first entry. It should be helpful for you to see an after sketch.
I think you are thinking in the right direction about using something low around the porch, but it needs to be accented with some plants with height at just the right places to create interest. An accent plant like Conoy Viburnum on either side of the front steps would accent the entrance. Use the soft touch holly in front of the porch and make the mulch bed wide enough to add a groundcover plant like creeping sedum in front of the holly. Use an evergreen shrub like Inkberry on either side of the window because it is taller than the plant used under the window. A ruby loropetalum is a nice evergreen, spring flowering plant for under the window. On the right side of the porch, have the mulch line sweep out and curve around a small tree that softens the corner of the porch. A crape myrtle or Japanese Maple would be nice. If the tree needs to be far away from the porch, have it stand alone in a circular mulch bed. In the fall, plant daffodil bulbs in the mulch bed around it for spring color. A sun-loving annual like annual vinca could be added in the summer. Use the same plant that we used at the front entrance to accent the side entrance. Repeat the planting beside and under the window on the other side. Have the mulch bed create a half circle in front of the house and add a low growing evergreen groundcover like ice plant for color. The large shade tree adds such a nice backdrop for the house. I do not know if it is practical to add another shade tree behind the house, but it would increase the street appeal. Go to my get published page and see a sketch of the design I have just described by pushing the button on the left side of the page.
Join in and write your own page! It's easy to do. How? Simply click here to return to Landscape Design Questions.