Need help planning new sidewalk and additional driveway..
by Carol Moore
(Medora, IL)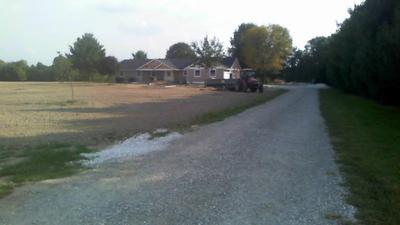 We just finished remodeling a ranch house. We added a front porch which will be Craftsman style. The garage opens at the end. Am trying to design sidewalk and driveway that will invite use of the front door. The yard is large, with the present drive coming straight in on the side of the garage.
Cannot get my computer to upload any photos. Is there an alternate way to get them to you??

It looks like you have a nice wide lot. A U-shaped driveway that sweeps from one side of the property to the other would be beautiful. The "u" would go in front of the house about 10-15' away with a gently curved sidewalk to the front steps. Make the space in front of the house at least 18' wide, so two cars can pass each other here. The other parts of the driveway can be 12-15' wide. The driveway to the garage would curve off the "U". A circle in front of the house with only one entrance from the road is a possibility too. Both of these designs are tried, true and tested. People love them because they are functional and impressive.

I hope this information helps!!! Thanks for contacting me.
Join in and write your own page! It's easy to do. How? Simply click here to return to Landscape Design Questions.