Need help with driveway design
by Cathy
(Clemson, SC USA)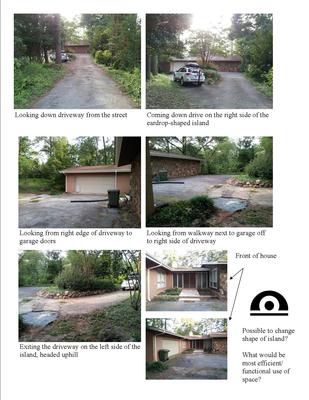 What are my options?
Mid-century modern home design under renovation-- upgrading to more transitional styling.
Long-ish drive on slope needs repaving. Are considering concrete or asphalt.
Drive has teardrop shape island.
Wanting to reshape island when drive is repaved.
Need suggestions on how to shape island as well as size island needs to be in scale.
Driveway slopes from road down to house.
Drainage a concern though a new drainage line has been run around the uphill side of home.
Is this something you can help me with?
Many thanks,
Cathy

Dear Cathy,

Thanks for sending the pictures with your question. It helps me better able to visualize your driveway issues. The approaching leg of your driveway focuses on the brick wall of the house. Since the entrance to your house is on the side, the driveway approach can't focus on the door. Instead you need to nicely landscape the area in front of this wall to create a nice entrance appearance for your house. After arriving at your house, I see the small, narrow tear drop in front of your house. I primarily see pavement and the garage door. When the garage doors face forward on a house, I like to plant evergreens to screen them. In the rough sketch, I have quickly drawn I am showing a planting bed in front of the brick wall, so eliminating all the paving there. The new paving would connect to the garage doors and end of the walk to the front door. The parking would then be on the left side of the house. Evergreens can be planted in the curve leading to the parking area to help soften the view of the garage doors on the approach. Plantings around the parking area can soften the appearance of the paving here. The left leg of the tear drop would be eliminated.
I hope this general information helps. Thanks for your question.

Nancy



Join in and write your own page! It's easy to do. How? Simply click here to return to Landscape Design Questions.