What are the dimensions of this driveway?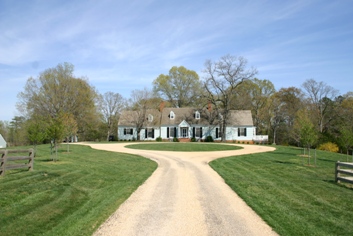 We are preparing to build a house and are considering a circular drive and love the look of this one but we are having trouble finding the proper dimensions to make sure we have enough space.

Hi! This house is about 120' wide. As you can see from the photo, the driveway is slightly wider than the house. That's the important design element here. The depth of the driveway is 80'. Again, the depth is what worked with its relationship to the house and the horse fencing surrounding the pasture. All circle driveways need to be wider at the house, so two cars can pass each other. You don't want a bottle neck here.
Thanks so much for your submission. I hope this information helps you with your project.

Nancy
Join in and write your own page! It's easy to do. How? Simply click here to return to Landscape Design Questions.