What is the best way to end a retaining wall with no real stopping point?
by Mike Proco
(Atlanta Ga)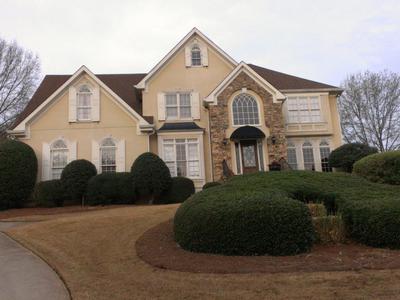 Before
I am removing all the landscaping in the middle of the house (see picture) and would like to put a retaining wall in the front yard ( half of a peanut shape). Do I slope the wall down or do I step it down?
I'd also like to put lights on the wall. DO I put them underneath the lip or on face of wall?
I will be using thin and medium size Tennessee stack stone.

A Tennessee stack stone wall sounds beautiful and will add a nice detail to your front yard. It will look best if you keep the top of the wall level and step or slope it down at the ends. If the ground behind it is not level, it may look best if you change the grade to make the wall level for a bit especially when it runs in front of the house. I did not receive the photo, so please send again if you like. Determine the correct height for the wall by how much earth you need to retain and cut and filling of soil that it requires.
I have used light fixtures under the wall cap and attached to the wall. Integral makes a great LED fixture that fits nicely under the overhang of the wall cap for a nice clean finish. There are also disc shaped fixtures with a variety of finishes that work well too. It depends on your taste, both do a good job.
I hope this information helps! Thanks for submitting your questions.

Good luck with your project,

Nancy
Join in and write your own page! It's easy to do. How? Simply click here to return to Landscape Design Questions.