Will a Pergola provide shade on my deck?
by Nancy Lambert
(Midlothian, VA)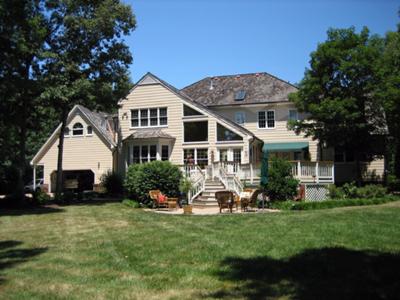 Hi Nancy, My house faces NE and I would like some shade on my back deck. I've thought about a screen porch but not sure where to put it or how it will work with the roofline of my sunroom. Would a pergola be an option? I've downloaded a picture of the back of my house. I plan on tearing off the deck and pulling up the overgrown shrubs and starting from scratch. I would also like to take out the large square and triangle windows in the sunroom, because of the excessive heat they allow in, and replace them with something proportionately appropriate. Any suggestions would be greatly appreciated.

Dear Nancy,

A pergola is used to provide shade. You can have the top members as close as you need to provide the amount of shade you want. A screen porch is also a nice option for our area because it keeps away the bugs. When I have a project involving a screen porch, I have an architect or building designer work with me to deal with exactly the questions you've asked, where to tie it into the roof line and its best location. Visit my pergola page by hitting the button on the left side of the page to see some pictures of drawings that provide different degrees of shade. A pergola can connect to the house or be free standing.
Thanks for submitting your question.

Nancy
Join in and write your own page! It's easy to do. How? Simply click here to return to Landscape Design Questions.